Schedule
Upcoming Concerts & Events in 2023
October 8th, Sunday Afternoon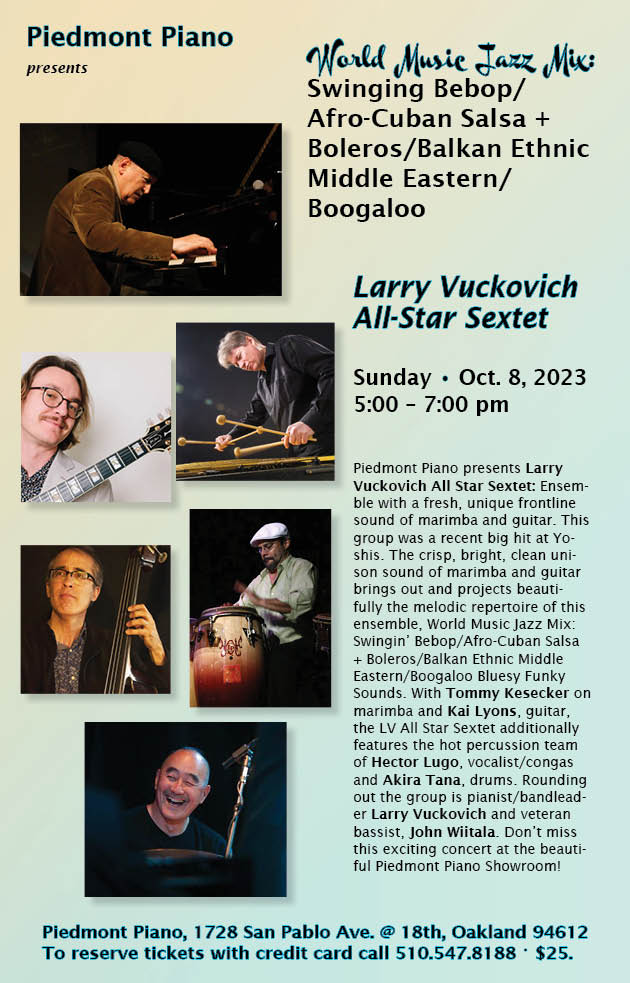 World Music Jazz Mix: Swinging Bebop/ Afro-Cuban Salsa + Boleros/Balkan Ethnic Middle Eastern/Boogaloo @ Piedmont Piano Showroom
Piedmont Piano presents Larry Vuckovich All Star Sextet: Ensemble with a fresh, unique frontline sound of marimba and guitar. This group was a recent big hit at Yoshis. The crisp, bright, clean unison sound of marimba and guitar brings out and projects beautifully the melodic repertoire of this ensemble, World Music Jazz Mix: Swingin' Bebop/Afro-Cuban Salsa + Boleros/Balkan Ethnic Middle Eastern/Boogaloo Bluesy Funky Sounds. With Tommy Kesecker on marimba and Kai Lyons, guitar, the LV All Star Sextet additionally features the hot percussion team of Hector Lugo, vocalist/congas and Akira Tana, drums. Rounding out the group is pianist/bandleader Larry Vuckovich and veteran bassist, John Wiitala. Don't miss this exciting concert at the beautiful Piedmont Piano Showroom!
Venue: Piedmont Piano Showroom, New Oakland Store 18th and San Pablo, Oakland, CA
Admission: $25
Time: 5:00 – 7:00 PM Sunday
Information: (510) 547-8188
Tickets: call 510.547 – 8188
Featuring: Larry Vuckovich, piano / Tommy Kesecker, marimba/ Kai Lyons, guitar/Hector Lugo, Latin percussion, vocals/John Wiitala, bass /Akira Tana, drums
---
October 14th, Saturday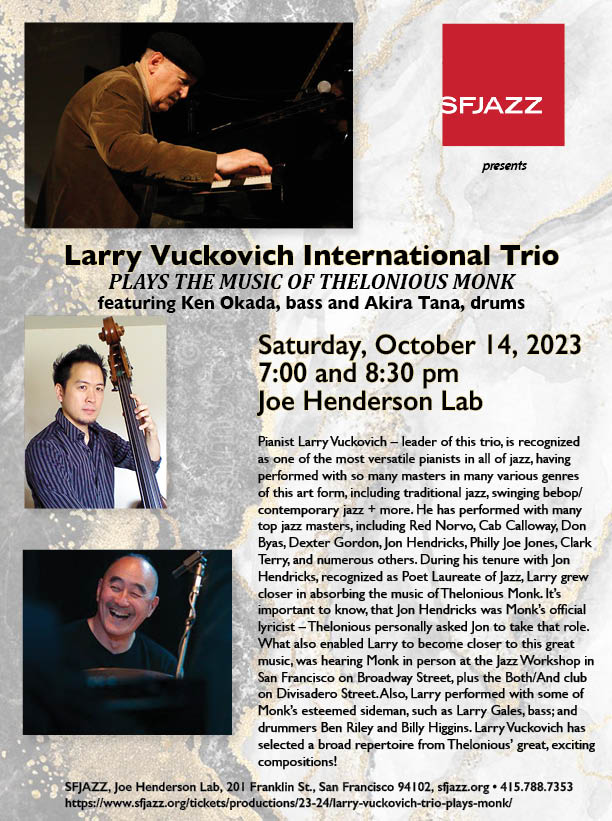 Larry Vuckovich International Trio: Thelonious Monk Festival with Ken Okada & Akira Tana @ SF Jazz Center – Joe Henderson Lab
These three seasoned veterans of different ethnicities, originating from different parts of the globe, come together performing authentically wide-ranging selections of American Jazz Styles including Thelonious Monk
Pianist Larry Vuckovich – leader of this trio, is recognized as one of the most versatile pianists in all of jazz, having performed with so many masters in many various genres of this art form, including traditional jazz, swinging bebop/contemporary jazz + more. He has performed with many top jazz masters, including Red Norvo, Cab Calloway, Don Byas, Dexter Gordon, Jon Hendricks, Philly Joe Jones, Clark Terry, and numerous others. During his tenure with Jon Hendricks, recognized as Poet Laureate of Jazz, Larry grew closer in absorbing the music of Thelonious Monk. It's important to know, that Jon Hendricks was Monk's official lyricist – Thelonious personally asked Jon to take that role. What also enabled Larry to become closer to this great music, was hearing Monk in person at the Jazz Workshop in San Francisco on Broadway Street, plus the Both/And club on Divisadero Street. Also, Larry performed with some of Monk's esteemed sideman, such as Larry Gales, bass; and drummers Ben Riley and Billy Higgins. Larry Vuckovich has selected a broad repertoire from Thelonious' great, exciting compositions!
Venue: SF Jazz Center-Joe Henderson Lab
Admission: SOLD OUT
Time: 7 & 8:30 PM (Two shows)
Tickets: SOLD OUT
Featuring: Larry Vuckovich, piano /Ken Okada, bass /Akira Tana, drums
---
October 29th, Sunday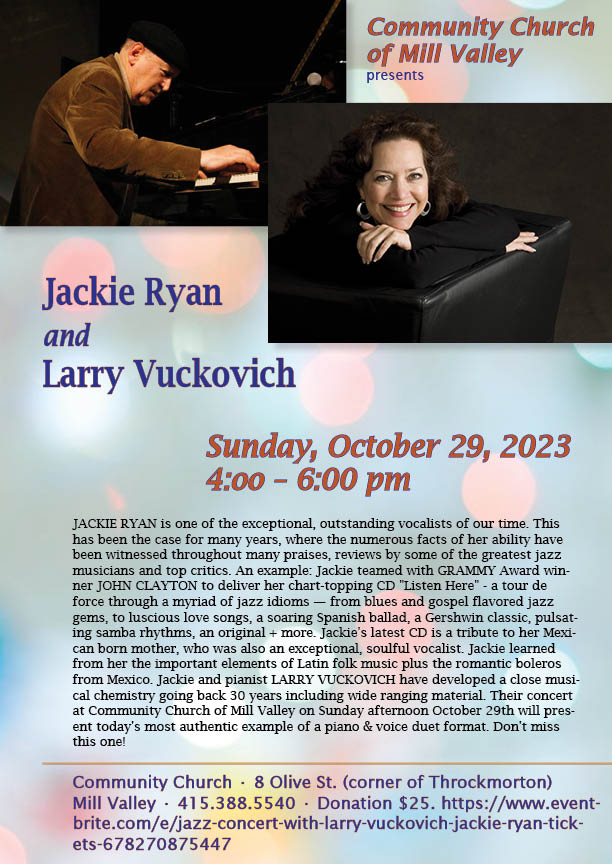 Jackie Ryan and Larry Vuckovich @ Community Church of Mill Valley, Sunday Afternoon 4 – 6 p.m.
Jackie Ryan is one of the exceptional, outstanding vocalists of our time. This has been the case for many years, where the numerous facts of her ability have been witnessed throughout many praises, reviews by some of the greatest jazz musicians and top critics. An example: Jackie teamed with GRAMMY Award winner John Clayton to deliver her chart-topping CD "Listen Here" - a tour de force through a myriad of jazz idioms — from blues and gospel flavored jazz gems, to luscious love songs, a soaring Spanish ballad, a Gershwin classic, pulsating samba rhythms, an original + more. Jackie's latest CD is a tribute to her Mexican born mother, who was also an exceptional, soulful vocalist. Jackie learned from her the important elements of Latin folk music plus the romantic boleros from Mexico. Jackie and pianist Larry Vuckovich have developed a close musical chemistry going back 30 years including wide ranging material. Their concert at Community Church of Mill Valley on Sunday afternoon October 29th will present today's most authentic example of a piano & voice duet format. Don't miss this one!
Venue: Community Church of Mill Valley, CA - 8 Olive Street (Corner of Olive and Throckmorton)
Admission: Tickets are $25 at the door and in advance
Time: 4–6PM
Tickets: Eventbrite or call (415) 388-5540
Featuring: Jackie Ryan, vocals/ Larry Vuckovich, piano
---