Schedule
Upcoming Concerts & Events in 2022
Saturday, October 15, 2022, at 1 PM | Larry Vuckovich Solo Piano

Streaming Live!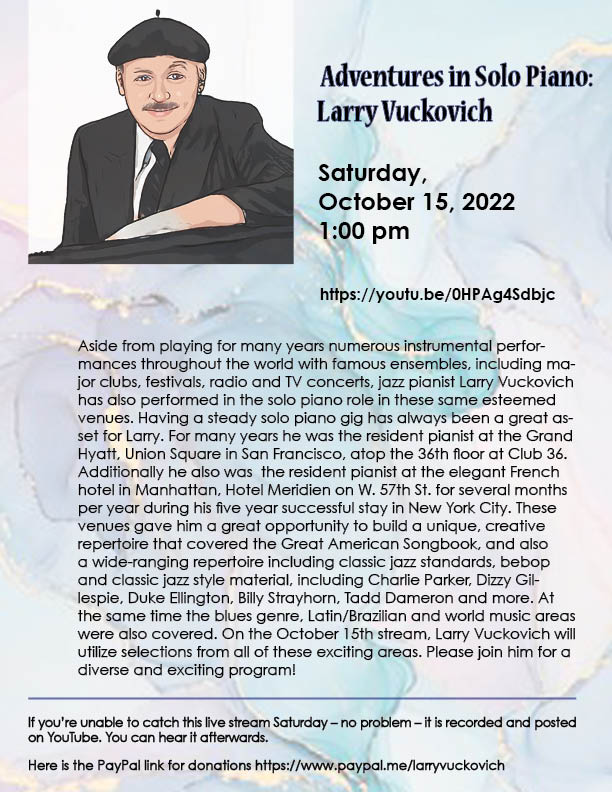 Note: if you're unable to watch live you will be able to watch the archived performance afterwards on my YouTube channel. Here is a link for donations through PayPal; in these difficult times, any donation, however big or small, is appreciated.
Larry Vuckovich has been fortunate to have played, toured, recorded with some of the greatest jazz artists including Dexter Gordon, Philly Joe Jones, Jon Hendricks, Mel Torme, Tony Bennett, Bobby Hutcherson, Bobby McFerrin & more. His 1980 LP release Blue Balkan ,featuring Bobby Hutcherson, has established him as a pioneer in the US, being the first to fuse Balkan ethnic with American jazz. Last year he received a Lifetime Achievement Award from his former country of Yugoslavia at the Nišville Jazz Festival in Serbia. This information is available on the homepage of his website www.larryvuckovich.com. … He has performed in New York at the top venues, including Village Vanguard with Charles McPherson, Billy Higgins, Curtis Fuller; also at Bradley's with Red Mitchell and at Lincoln Center's Dizzy's Club Coca-Cola with my own quartet.… His wide-ranging solo piano concert repertoire includes Swinging Bebop, Contemporary Jazz, Rare Standards, Balkan Ethnic, Latin/Brazilian, Flamenco jazz, Blues/Boogaloo & more.
Venue: Live from Larry's Home
Admission: Donations greatly appreciated
Time: 1PM
Featuring: Larry Vuckovich, piano
---
October 30th, Sunday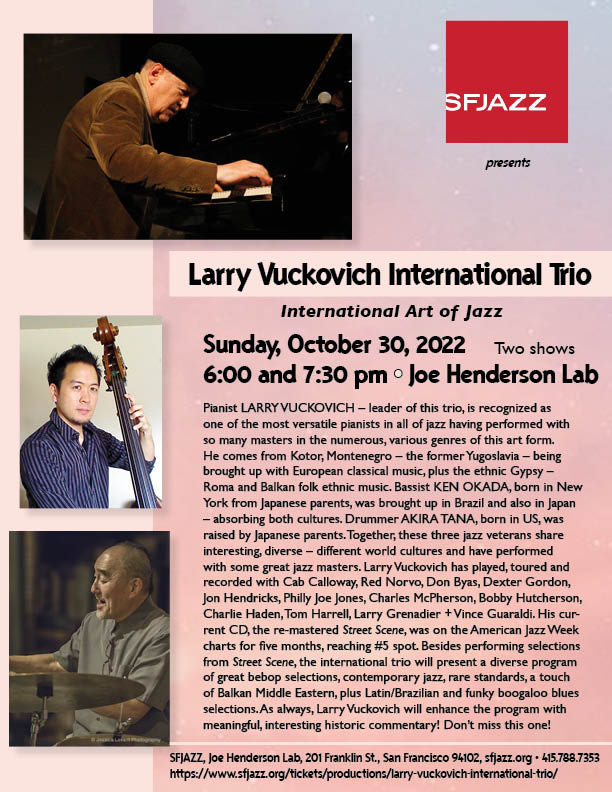 Larry Vuckovich International Trio with Ken Okada & Akira Tana present : International Art of Jazz .. These three seasoned veterans of different ethnicities, originating from different parts of the globe, come together performing authentically a diverse program, covering wide-ranging selections of American Jazz Styles @ SF Jazz Center – Joe Henderson Lab
Pianist Larry Vuckovich – leader of this trio, is recognized as one of the most versatile pianists in all of jazz having performed with so many masters in the numerous, various genres of this art form which include traditional jazz, swinging bebop/contemporary jazz, Latin Afro-Cuban salsa/Brazilian, blues and world music. The list of the masters from these varied genres is quite impressive: Cab Calloway, Red Norvo, Don Byas, Dexter Gordon, Jon Hendricks, Philly Joe Jones, Charles McPherson, Bobby Hutcherson, Charlie Haden, Tom Harrell, Larry Grenadier, + Vince Guaraldi. His current CD, the re-mastered Street Scene, was on the American Jazz Week charts for five months, reaching #5 spot. Master drummer Akira Tana, featured on Street Scene is joining Larry this evening along with his bassist partner, the excellent Ken Okada. Besides performing selections from Street Scene, the international trio will present a diverse program of great bebop selections, contemporary jazz, rare standards, a touch of Balkan Middle Eastern, plus Latin/Brazilian and funky boogaloo blues selections. As always, Larry Vuckovich will enhance the program with meaningful, interesting historic commentary!
Venue: SF Jazz center – Joe Henderson Lab
Admission: $25
Time: 6 PM – 7:30 PM - Two shows
Tickets: https://www.sfjazz.org/smartseat/?performanceNumber=15912#
Featuring: Larry Vuckovich, piano /Ken Okada, bass /Akira Tana, drums
---