Schedule
Upcoming Concerts & Events in 2022
December 3rd, Saturday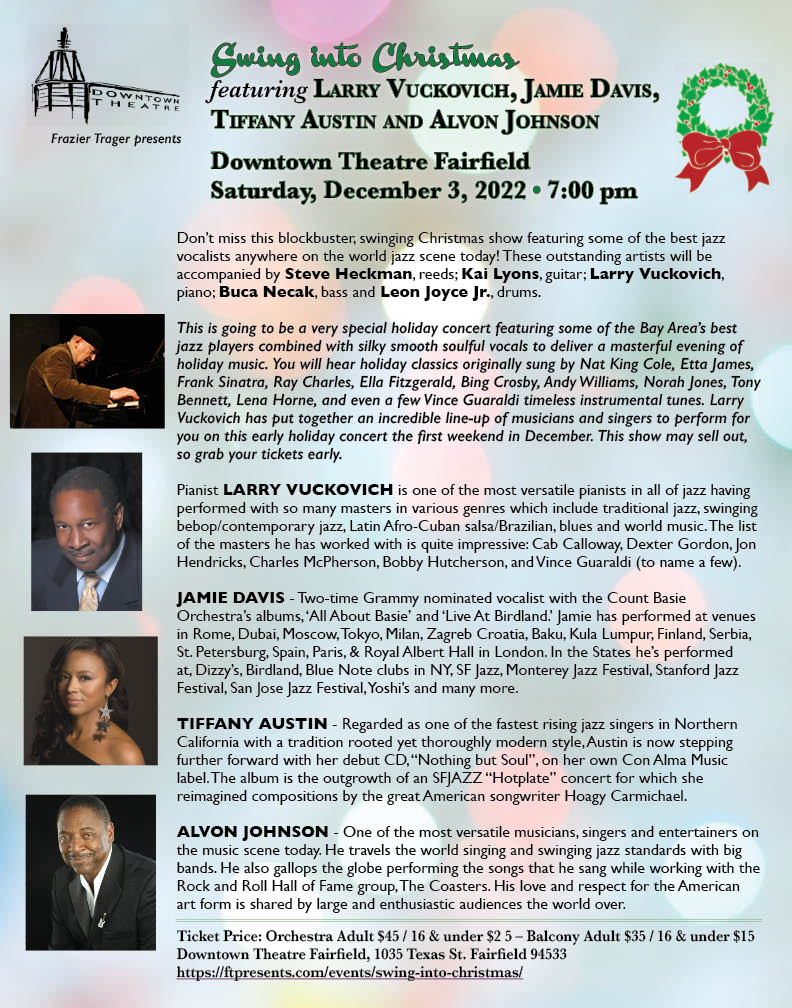 Blockbuster Holiday Concert: Swing Into Christmas with Larry Vuckovich, Jamie Davis, Tiffany Austin & Alvon Johnson, Saturday, December 3rd 7 PM @ Downtown Theater Fairfield
Larry Don't miss this blockbuster, swinging Christmas show featuring some of the best jazz vocalists anywhere on the world jazz scene today! These outstanding artists will be accompanied by Steve Heckman, reeds; Kai Lyons, guitar; Larry Vuckovich, piano; Buca Necak, bass and Leon Joyce Jr., drums.…… This is going to be a very special holiday concert featuring some of the Bay Area's best jazz players combined with silky smooth soulful vocals to deliver a masterful evening of holiday music. You will hear holiday classics originally sung by Nat King Cole, Etta James, Frank Sinatra, Ray Charles, Ella Fitzgerald, Bing Crosby, Andy Williams, Norah Jones, Tony Bennett, Lena Horne, and even a few Vince Guaraldi timeless instrumental tunes. …… Larry Vuckovich has put together an incredible line-up of musicians and singers to perform for you on this early holiday concert the first weekend in December. This show may sell out, so grab your tickets early. Pianist Larry Vuckovich is one of the most versatile pianists in all of jazz having performed with so many masters in various genres which include traditional jazz, swinging bebop/contemporary jazz, Latin Afro-Cuban salsa/Brazilian, blues and world music. The list of the masters he has worked with is quite impressive: Cab Calloway, Dexter Gordon, Jon Hendricks, Charles McPherson, Bobby Hutcherson, and Vince Guaraldi (to name a few). …… Jamie Davis - Two-time Grammy nominated vocalist with the Count Basie Orchestra's albums, 'All About Basie' and 'Live At Birdland.' Jamie has performed at venues in Rome, Dubai, Moscow, Tokyo, Milan, Zagreb Croatia, Baku, Kula Lumpur, Finland, Serbia, St. Petersburg, Spain, Paris, & Royal Albert Hall in London. In the States he's performed at, Dizzy's, Birdland, Blue Note clubs in NY, SF Jazz, Monterey Jazz Festival, Stanford Jazz Festival, San Jose Jazz Festival, Yoshi's and many more. …… Tiffany Austin - Regarded as one of the fastest rising jazz singers in Northern California with a tradition rooted yet thoroughly modern style, Austin is now stepping further forward with her debut CD, "Nothing but Soul", on her own Con Alma Music label. The album is the outgrowth of an SFJAZZ "Hotplate" concert for which she reimagined compositions by the great American songwriter Hoagy Carmichael.…… Alvon Johnson - One of the most versatile musicians, singers and entertainers on the music scene today. He travels the world singing and swinging jazz standards with big bands. He also gallops the globe performing the songs that he sang while working with the Rock and Roll Hall of Fame group, The Coasters. His love and respect for the American art form is shared by large and enthusiastic audiences the world over.
Venue: Downtown Theater Fairfield, 1035 Texas St, Fairfield, CA 94533
Admission: Orchestra Adult $45 / 16 & under $25 - Balcony Adult $35 / 16 & under $15
Time: 7:00 PM (two sets)
Tickets: online at FT Presents
Featuring: Larry Vuckovich, piano / Jamie Davis, vocals / Tiffany Austin, vocals /Alvon Johnson, vocals / Steve Heckman, reeds / Kai Lyons, guitar / Buca Necak, bass / Leon Joyce, drums
---
Saturday, December 10, 2022, at 1 PM | Larry Vuckovich's 86th Birthday Live Stream

Streaming Live!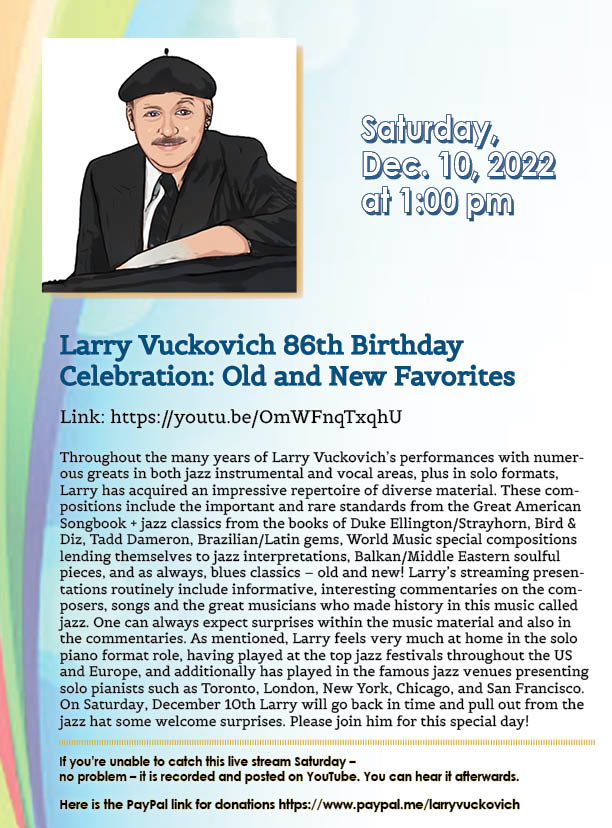 Note: if you're unable to watch live you will be able to watch the archived performance afterwards on my YouTube channel. Here is a link for donations through PayPal; in these difficult times, any donation, however big or small, is appreciated.
Larry Vuckovich has been fortunate to have played, toured, recorded with some of the greatest jazz artists including Dexter Gordon, Philly Joe Jones, Jon Hendricks, Mel Torme, Tony Bennett, Bobby Hutcherson, Bobby McFerrin & more. His 1980 LP release Blue Balkan ,featuring Bobby Hutcherson, has established him as a pioneer in the US, being the first to fuse Balkan ethnic with American jazz. Last year he received a Lifetime Achievement Award from his former country of Yugoslavia at the Nišville Jazz Festival in Serbia. This information is available on the homepage of his website www.larryvuckovich.com. … He has performed in New York at the top venues, including Village Vanguard with Charles McPherson, Billy Higgins, Curtis Fuller; also at Bradley's with Red Mitchell and at Lincoln Center's Dizzy's Club Coca-Cola with my own quartet.… His wide-ranging solo piano concert repertoire includes Swinging Bebop, Contemporary Jazz, Rare Standards, Balkan Ethnic, Latin/Brazilian, Flamenco jazz, Blues/Boogaloo & more.
Venue: Live from Larry's Home
Admission: Donations greatly appreciated
Time: 1PM
Featuring: Larry Vuckovich, piano
---
December 28th, Wednesday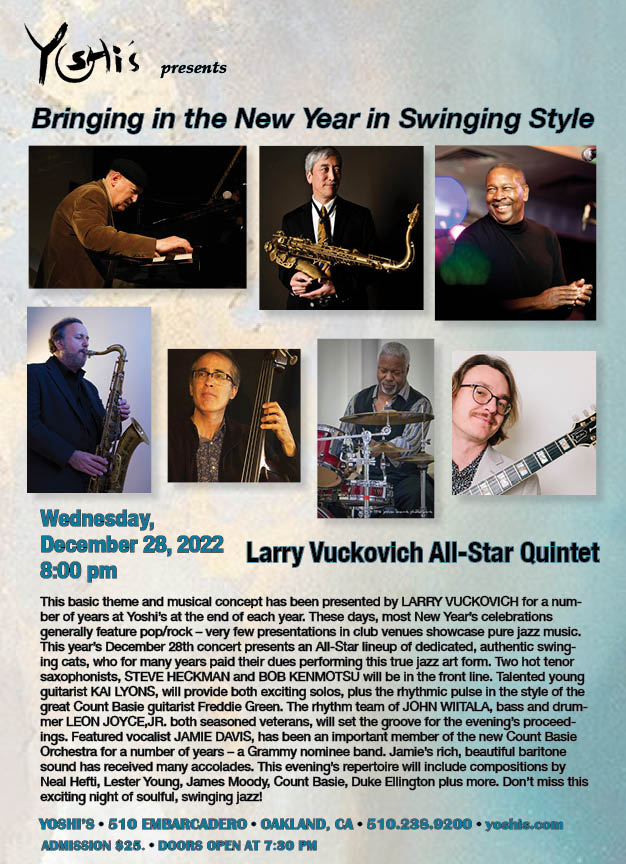 Larry Vuckovich's All-Star Quintet featuring Jamie Davis: Bringing In the New Year In Swinging Style –An Evening of Swinging, Soulful, Foot Tapping Jazz- Performing the Music of Count Basie, Neil Hefti, James Moody, Duke Ellington + more. @ Yoshi's Jack London Square
Pianist Larry Vuckovich has had the wonderful fortune to have performed some of the greatest jazz masters, in particular, the swinging ones as Cab Calloway, Red Norvo, Don Byas, Buddy Tate, Milt Jackson, Dexter Gordon, Jon Hendricks, Philly Joe Jones, and many more. He has fond memories or performing with Jon Hendricks at the Berlin Jazz Festival in' 68 where almost half of the Count Basie band, was also on the bill, played some special arrangements that John brought. Count Basie's drummer at a time, the swinging Harold Jones, played with Joan and Larry. Since then Larry Vuckovich has done recordings with the combination of two swinging tenor saxophonists playing the music of Lester Young, Count Basie, Neil Hefti, James Moody, Charlie Parker + more. This evening's performance is assured to lift the audience's spirits and bring it back to the golden jazz era.
Venue: Yoshi's Jack London Square 510 Embarcadero West, Jack London Square, Oakland, CA
Admission: $25 – $49
Time: 8 PM
Tickets: eTix
Featuring: Larry Vuckovich, piano /Jamie Davis, vocals /Steve Heckman, tenor saxophone/Rob Roth, Tenor saxophone Kai Lyons, guitar /John Wiitala, bass /Leon Joyce, drums
---