Schedule
Upcoming Concerts & Events in 2023
Saturday, December 2nd, 2023, at 1 PM | Larry Vuckovich Solo Piano

Streaming Live!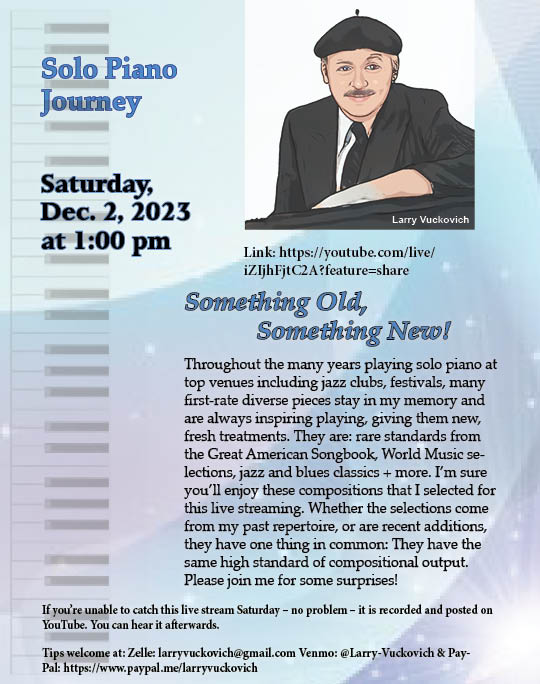 Note: if you're unable to watch live you will be able to watch the archived performance afterwards on my YouTube channel. Here is a link for donations through PayPal; in these difficult times, any donation, however big or small, is appreciated.
Larry Vuckovich has been fortunate to have played, toured, recorded with some of the greatest jazz artists including Dexter Gordon, Philly Joe Jones, Jon Hendricks, Mel Torme, Tony Bennett, Bobby Hutcherson, Bobby McFerrin & more. His 1980 LP release Blue Balkan ,featuring Bobby Hutcherson, has established him as a pioneer in the US, being the first to fuse Balkan ethnic with American jazz. Last year he received a Lifetime Achievement Award from his former country of Yugoslavia at the Nišville Jazz Festival in Serbia. This information is available on the homepage of his website www.larryvuckovich.com. … He has performed in New York at the top venues, including Village Vanguard with Charles McPherson, Billy Higgins, Curtis Fuller; also at Bradley's with Red Mitchell and at Lincoln Center's Dizzy's Club Coca-Cola with my own quartet.… His wide-ranging solo piano concert repertoire includes Swinging Bebop, Contemporary Jazz, Rare Standards, Balkan Ethnic, Latin/Brazilian, Flamenco jazz, Blues/Boogaloo & more.
Venue: Live from Larry's Home
Admission: Tips greatly appreciated via Zelle (larryvuckovice@gmail.com), Venmo (@Larry-Vuckovich), & Paypal
Time: 1PM
Featuring: Larry Vuckovich, piano
---
December 10th, Sunday Afternoon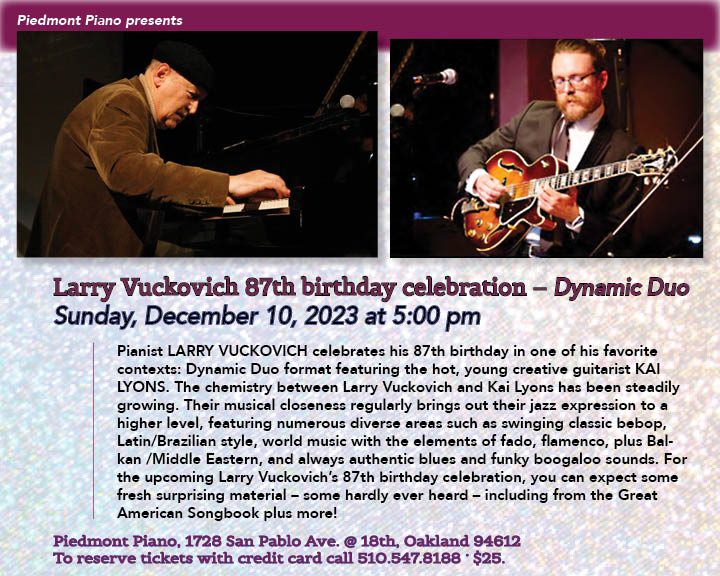 Larry Vuckovich 87th Birthday Celebration:
Dynamic Duo w/ Kai Lyons @ Piedmont Piano Showroom
Jazz pianist Larry Vuckovich celebrates his 87th birthday in one of his favorite contexts: Dynamic Duo format featuring the hot, young creative guitarist Kai Lyons. The chemistry between Larry Vuckovich and Kai Lyons has been steadily growing. Their musical closeness regularly brings out their jazz expression to a higher level, featuring numerous diverse areas such as swinging classic bebop, Latin/Brazilian style, world music with the elements of fado, flamenco, plus Balkan /Middle Eastern, and always authentic blues and funky boogaloo sounds. For the upcoming Larry Vuckovich's 87th birthday celebration, you can expect some fresh surprising material – some hardly ever heard – including from the Great American Songbook plus more!
Venue: Piedmont Piano Showroom, New Oakland Store 18th and San Pablo, Oakland, CA
Admission: $25
Time: 5PM
Information: (510)547-8188, Facebook
Tickets: TicketTailor
Featuring: Larry Vuckovich, piano / Kai Lyons, guitar
---
December 27th, Wednesday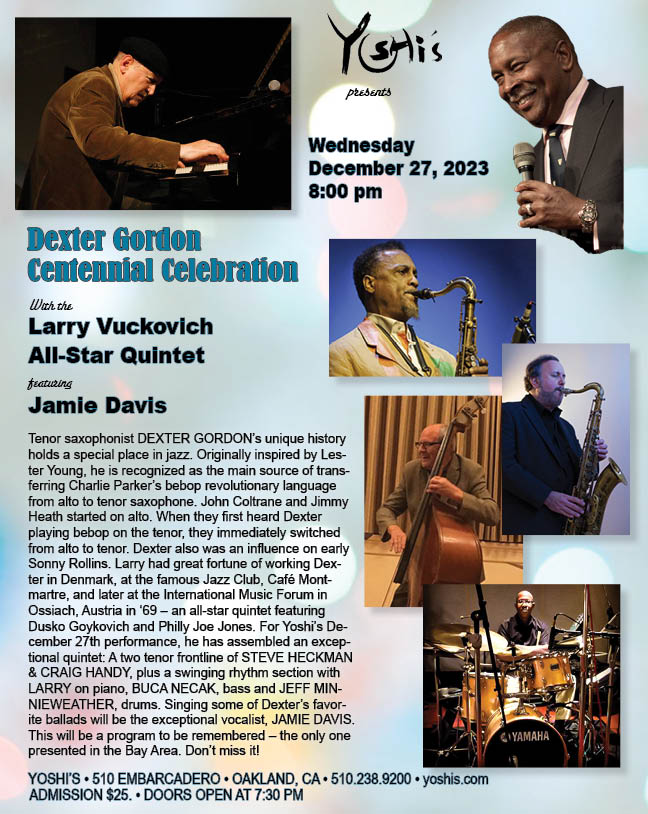 Larry Vuckovich's All-Star quintet: Dexter Gordon Centennial Celebration featuring Jamie Davis + 2 frontline tenors Steve Heckman and Craig Handy @ Yoshi's Jack London Square
Tenor saxophonist Dexter Gordon's unique history holds a special place in jazz. Originally inspired by Lester Young, he is recognized as the main source of transferring Charlie Parker's bebop revolutionary language from alto to tenor saxophone. John Coltrane and Jimmy Heath started on alto. When they first heard Dexter playing bebop on the tenor, they immediately switched from alto to tenor. Dexter also was an influence on early Sonny Rollins. Larry had great fortune of working Dexter in Denmark, at the famous Jazz Club, Café Montmartre, and later at the International Music Forum in Ossiach, Austria in '69 – an all-star quintet featuring Dusko Goykovich and Philly Joe Jones. For Yoshi's December 27th performance, he has assembled an exceptional quintet: A two tenor frontline of Steve Heckman & Craig Handy, plus a swinging rhythm section with Larry on piano, Buca Necak, bass and Jeff Minnieweather, drums. Singing some of Dexter's favorite ballads will be the exceptional vocalist, Jamie Davis. This will be a program to be remembered – the only one presented in the Bay Area. Don't miss it!
Venue: Yoshi's, New Oakland Store 18th and San Pablo, Oakland, CA
Admission: $25-$49
Time: 8:00 PM
Tickets: eTix
Featuring: Larry Vuckovich, piano / Kai Lyons, guitarLarry Vuckovich, piano /Jamie Davis, vocals/Steve Heckman, tenor/Craig Handy, tenor/Buca Necak, bass/Jeff Minnieweather
---