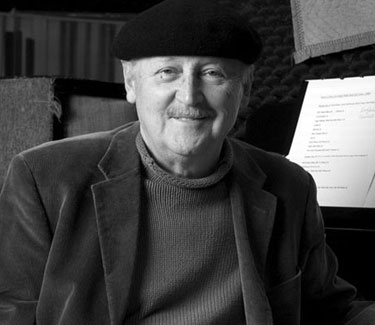 Larry Vuckovich has won acclaim from critics and jazz audiences for his deeply imaginative style and repertoire heard at prestigious North American and European jazz clubs, concert halls and festivals. He is as equally at home in world music/classically influenced modal jazz as he is in hard-swinging bebop, post-bop, contemporary jazz, and down-home blues. The New York Times notes that his unique outlook and collection of influences "set him apart from most pianists who are heard regularly in New York". The Village Voice comments on his "book of piano gems that will keep you guessing". The Toronto Globe and Mail calls him "a musician who sits apart from the rest by virtue...of his taste for both the exotic and the exquisite".
Cited by piano legend Barry Harris as "one of the premier West Coast pianists", Mr. Vuckovich brought his Jazz-Latin Trio/Quartet, featured on his two recent piano trio/quartet CDs, to Lincoln Center's Dizzy's Club Coca Cola in New York on a recent East Coast tour. On the same tour, Marian McPartland invited him to interview and perform with her on her Piano Jazz show, broadcast to national and global NPR affiliates. A versatile pianist and leader, Mr. Vuckovich's performances have gone from soloist at the Fazioli piano series in San Francisco, New York and Chicago, to conducting an 18-piece band, which sold out the legendary 600-seat 2007 Jazz at Filoli show in Woodside, California.
Among his last three recordings for Tetrachord: Something Special placed #3 on JazzWeek NPR (National Public Radio) reporting charts. His earlier recordings for his label: High Wall: Real Life Film Noir and Street Scene, placed in the Top 10 of the JazzWeek NPR charts, and were heard regularly on XM Satellite radio. They have won praise from top critics:
"... he creates an earthy post-bop style of richly varied improvisational expression." Jazz Podium (Germany)
"... a pianist whose evocative touch and poetic (but unsentimental) sensibility convey the wisdom of deep musical life experience" Thomas Conrad, Jazz Times
"A true musician's musician...originality, elegance, dexterity and most of all great sense of swing, time, space and phrasing. For those who are keen on a superior jazz trio, Street Scene is highly recommended." Gilbert Mathieu, Jazz Improv
"... any discussion of the best jazz piano players in the world must now include Larry Vuckovich!" Brad Stone, Music Director, KSJS, San Jose, CA
"A MONSTER of a player who should be much more well known." Gary Walker, Music Director, WBGO, NJ/NYC
"San Francisco pianist Larry Vuckovich has been an accompanist, bandleader and world-jazz pioneer over seven decades. His latest album Somethin' Special is exactly that. His playing sparkles with understated wit... He's telling a story... It's the work of a master." Andrew Gilbert, columnist for San Francisco Chronicle, Boston Globe, Jazz Times, Down Beat.
"Great new release. Great selection of tunes…your interpretations and playing are the ABSOLUTE as always." Gary Walker, WBGO Jazz Radio
"This CD easily lives up to its title with outstanding performances throughout the sessions." "...Pannonica mixes glistening lines with jaunty bop." "...Stardust is lush with a few Tatum-inspired runs. 
 ★ ★ ★ ★ ½ Stars Ken Dryden, AllMusicGuide.com Read Full Review →
"I think it kills." Thomas Conrad, Eighty-Eights column, JazzTimes
"Somethin' Special is a lovely album, beautifully performed. Vuckovich has selected a set of tunes that includes some unjustly unfamiliar numbers, and Hamilton and Jewkes add grace and sensitivity to the excellent playing of the central trio." Bruce Lindsay, AllAboutJazz.com Read Full Review →
His Blue Balkan ensemble has won praise from critics as a pioneer in world music jazz fusion. The CD reissue, with new material, of his acclaimed 1980 recording (Downbeat 4 1/2 stars), was named one of the top CDs of 2002 by critic Gary Giddins in The Village Voice. The ensemble combines modal modern jazz of John Coltrane, Thelonious Monk, Randy Weston, Duke Ellington, and Balkan/Roma (gypsy) elements.
"Drawing from his ethnic background as well as his blues roots, pianist Larry Vuckovich makes a warm and rich statement with Blue Balkan." 
 ★ ★ ★ ★ ½ Stars Down Beat, October 1981
"Most convincing, most integrated combinations ever of ethnic music and straight ahead Jazz." Cadence, June 1981 "...ahead of its time...intriguing, fresh-sounding jazz...." Cadence, June 2002
"Vuckovich has mixed his idioms with skill and is aided in no small measure by Bobby Hutcherson on marimba and vibes, Erik Golub on viola and violin." Leonard Feather, L.A. Times 1981
"Prefiguring the much-lauded work of Dave Douglas and even John Zorn ... modern context ... angular, cubist, post-bop compositions ... the gypsy-style melodies, authentically believeable on their own work effortlessly" Matt Collar, AllMusic.com 2002 Read Full Review →
"hailed for its diverse talent and global influences ... re-released with new music ... global jam session ... Vuckovich can swing hard ... killer blues" Mark F. Turner, Allaboutjazz.com 2002 Read Full Review →
His other bands include the two-tenor Young at Heart sextet (A tribute to Lester Young & Charlie Parker), which played at the San Francisco Jazz Festival, and was called "one of the happier surprises" of the Monterey Jazz Festival by Scott Yanow in L.A. Scene. He also leads a Dexter Gordon-Sonny Clark tribute quintet, his Latin band La Orquesta El Vuko, plus his Vince Guaraldi Quintet paying tribute to his former teacher, legendary Bay Area/national pianist Guaraldi, of Peanuts/Charlie Brown fame. He has developed several clinics, and teaches regularly with the California Jazz Conservatory (formerly JazzSchool) in Berkeley, CA. He developed several clinic themes including: the History of Jazz Piano, the Art of the Ballad, Modal/Impressionistic Jazz, including Middle Eastern and Asiatic Scales. His extensive knowledge of recorded jazz history, leads Mr. Vuckovich to always include some rarely heard jazz gems for audiences to experience. His presentation, shaped by a 'less is more" concept highlights the amazing achievements of pianist Horace Parland who played such meaningful and deeply expressive music with exquisite subtlety. As always he includes a Study of Bebop and Post-bop Pianists, featuring styles of Bill Evans, Erroll Garner, Bud Powell, Thelonious Monk, and Red Garland, that was successfully presented at the 2005 IAJE (International Association for Jazz Education) conference in Long Beach.
Born in Kotor, a small Montenegrin coastal town in the former Yugoslavia, the pianist was classically trained as a child, but was also drawn to jazz music he heard on Armed Forces Radio and Voice of America during World War II and the Communist regime that followed. After the war, Tito's communists took his home, including the family piano, and imprisoned his father and brother. Jazz came to symbolize freedom. Finally, in 1951, when he was 14, his family was granted political asylum in the United States, arriving in San Francisco at the height of a flourishing jazz scene. The young pianist began listening to local KJAZ radio, hanging out at record shops and later frequenting legendary clubs to hear visiting jazz giants, such as Miles Davis, John Coltrane, Dizzy Gillespie, Bill Evans, and others. He also heard and sat in with locally based masters, such as John Handy and Brew Moore with whom he later began his professional career. Among the famous clubs he visited was the Black Hawk, where he met Cal Tjader pianist, Vince Guaraldi, who agreed to engage him as his only piano student. Mr. Guaraldi later featured Mr. Vuckovich in a two-piano quintet, Powder Keg, and sent him to substitute as accompanist for vocalists Irene Kral and David Allyn. Soon after when Mel Tormé came to San Francisco, Mr. Vuckovich became his first-call pianist.
He began a 25-year on and off association with vocalist-lyricist Jon Hendricks that included performances in Hendricks' long-running musical Evolution of the Blues, and two Hendricks recordings. (The famous scat master later appeared on Mr. Vuckovich's Reunion CD, released in 2004, placing in the top 25 on JazzWeek charts.) He toured with Mr. Hendricks throughout North America and Europe, where he also led the house band at Germany's top jazz club, Domicile in Munich, playing with such artists as Lucky Thompson, Slide Hampton, Pony Poindexter, Clifford Jordan, and others. He worked with European trumpeter Dusko Goykoyich and became a member of his International Quintet, recording a live album with the band at the Domicile. He also performed with drum master Philly Joe Jones, at the club and later toured Europe with him. He met Dexter Gordon and toured with him in Austria and in Copenhagen, appearing at the famous Montmartre jazz club. He performed at festivals at Jazz Ost/West in Nurnberg, Cologne, Berlin, Vienna, Bologna, Lugano, Pescara, and Ljublijana (Yugoslavia).
It was during his Domicile residency in Munich, that he met his first wife, the late Linda Weaver Vuckovich. Linda was a multi-talented artist who specialized in graphic design and stained-glass works. She also had a gifted ear for listening and playing music. It was Linda who helped form Tetrachord Music to publish Larry's original compositions. Their son Alexi became a talented classical pianist, and much in demand piano instructor.
Mr. Vuckovich worked with Philly Joe again in San Francisco at Todd Barkan's Keystone Korner, where he was a resident pianist for five years. He played with jazz legends Arnett Cobb, Buddy Tate, Charles McPherson, Leon Thomas, Scott Hamilton, and Eddie "Cleanhead" Vinson, with whom he appears on a Savant Records CD from a live Keystone recording. He has also recorded for Concord Records, Hot House, Inner City Records, and Palo Alto Jazz, and originated his own label Tetrachord Music in 2000, producing seven highly successful CDs.
Mr. Vuckovich worked for five years on the New York scene where he appeared at all major jazz clubs, including Village Vanguard, Blue Note, Bradley's Zinno, West End, Hanratty's, and others, working with Billy Higgins, Cecil Payne, Al Cohn, Curtis Fuller, Milt Hinton, Mel Lewis, Red Mitchell, Michael Moore, Tom Harrell, and Charles McPherson; the latter two have appeared on Mr. Vuckovich's CDs. While in New York he led his own groups that included Mel Lewis, Tom Harrell, Victor Lewis, Joshua Breakstone, Walter Booker, Dennis Irwin, and Harvie S. His two shows in the PBS Club Date jazz series, both with Tom Harrell in 1982 and 1991, received a New York Times critique as being "well worth tuning in for." The series is archived in the U.S. Library of Congress.
He returned to San Francisco for a second long-term engagement as house pianist and music director of Club 36 atop the Grand Hyatt Hotel from 1990 to 1997, having first presided there from 1978 to 1984. He featured visiting musicians from New York and Europe, presented concerts showcasing distinguished San Francisco-based musicians, including a popular Bop City Night, and hosted San Francisco Jazz Festival events there. He also presented several West Coast Jazz Festival performances and served as music director of the Napa Valley Jazz Festival for six years. He has performed at San Francisco, Monterey and San Jose jazz festivals, Aspen/Sonoma Jazz Festival and the Palo Alto Jazz Alliance, as well as major Bay Area concert venues, such as Yoshi's, Jazz at Pearl's, Herbst Theater, The Bach Beach House, Napa Valley Opera House, COPIA, Kimball's East and Kimball's West, and recent European festivals at La Teste de Buch (France), Silda (Norway), Basel (Switzerland), Belgrade (Serbia), Nišville (Serbia), Bankiya and Bansko (Bulgaria).
Larry was named a "Jazz Legend" at the Fillmore Jazz Heritage Center in San Francisco. Larry was honored along with Eddy and Vernon Alley, Willie Bobo, Vince Guaraldi, Paul Desmond, Bop City's Jimbo Edwards, John Handy, Noel Jewkes, Frank Jackson, Jon Hendricks, Bobby Hutcherson, Pat Nacey, Cal Tjader, Allen Smith, and others who contributed to the greatness of the San Francisco jazz scene. Larry Vuckovich Day, December 8th was proclaimed in San Francisco on his birthday.
Larry was the first jazz musician to discover and record Bronislaw Kaper's obscure, haunting High Wall theme. He performed in New York at Lincoln Center's Dizzy's Club Coca Cola and was Marian McPartland's guest on her NPR Piano Jazz program. His other performances include tours with Legends of Jazz featuring Hadley Caliman, Curtis Fuller, Julian Priester, John Heard, Jeff Chambers, and Eddie Marshall. Larry, who worked with Dexter Gordon, recently collaborated with the Napa Valley Jazz Society to present a tribute to Dexter Gordon in a two- tenor front line quintet format. He recently reconnected with the legendary percussionist Big Black, with whom he worked in Jon Hendrick's group in the 60s. He and Big Black recently headlined a sellout performance at the Blue Note club in Napa, California. His teaching and clinical projects include a solo piano format of the History of Jazz Piano, ranging from Jelly Roll Morton, Fatha Hines, Teddy Wilson, and Bud Powell, to Bill Evans, McCoy Tyner, Chick Corea, and various free jazz styles. In December of 2018, Larry received The Buddy Montgomery Jazz Legacy award – 2018 Jazz Pioneer Award.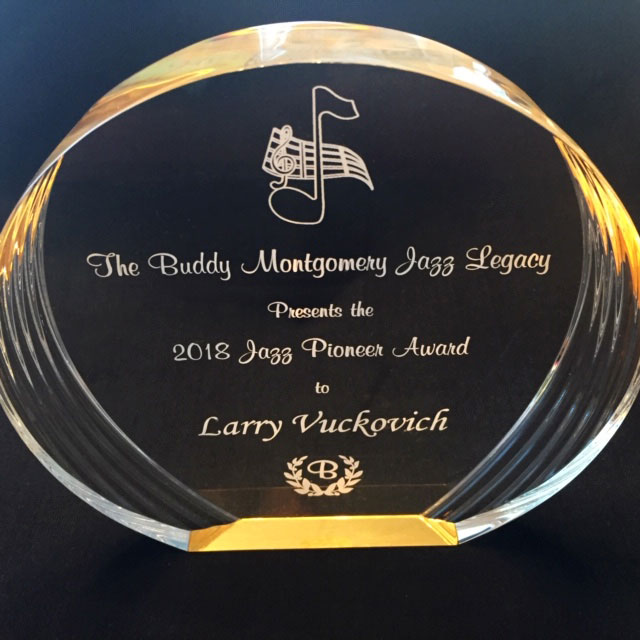 Mr. Vuckovich lives in Northern California with his wife, Sanna Craig-Vuckovich, who is a vocalist-percussionist, journalist and media relations professional. As executive producer on the couple's Tetrachord Music label, she played a major role in creating this recording side of their company. Besides his own CDs, Mr. Vuckovich has recorded, arranged and produced a CD for Sanna's son, guitarist Josh Workman, Jumpin' at the Border, named one of the top four instrumentals of 2004 in the IAJE journal. Mr. Vuckovich received a B.A. in music at San Francisco State University, where he studied classical piano with renowned pianists, Vladimir Brenner and Dr. Wayne Peterson. His son Alexi Vuckovich is a classical pianist, who also attended SF State, where he earned a Master's degree (MBA) and is currently a much-in-demand piano instructor. He is also an accomplished and creative computer designer, having created several music education apps.
To learn more about Larry Vuckovich: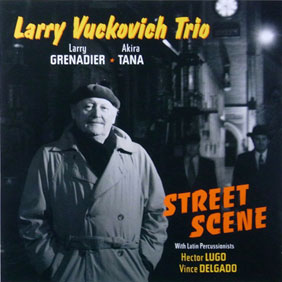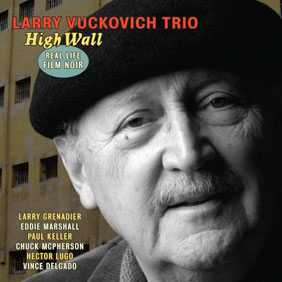 These two acclaimed CDs, which gained high airplay and excellent press, showcase Mr. Vuckovich in his basic performance format: piano, bass, drums and Latin percussion. Within this beyond category musical presentation, Mr. Vuckovich's pianistic expression comes to its fullest realization – something that also comes to life in Mr. Vuckovich's solo piano perfomances.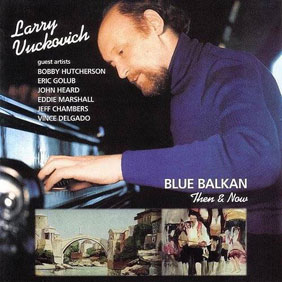 Mr. Vuckovich is recognized as being the first, a pioneer in the US to fuse the Balkan ethnic, music with jazz.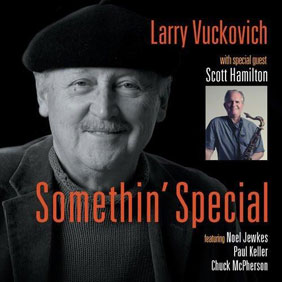 This recording received many top reviews and placed at the number three spot on the national JazzWeek radio charts.