Clinics
History of Jazz Piano, Bebop & Post-Bop, Art of the Ballad
Jazz Piano History
Workshop for musicians & jazz fans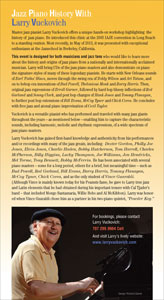 Master jazz pianist Larry Vuckovich offers a unique hands-on workshop highlighting the history of jazz piano. This event is designed for both musicians and jazz fans who would like to learn more about the history and origins of jazz piano from a nationally and internationally acclaimed musician. Larry will bring CDs of the jazz piano masters and also demonstrate on piano the signature styles of many of these legendary pianists. He starts with New Orleans sounds of Earl 'Fatha' Hines, moves through swing era piano of Teddy Wilson and Art Tatum, and on to bebop era innovations of Bud Powell,Thelonious Monk and Barry Harris, then, original jazz expressions of Erroll Garner, followed by hard bop bluesy inflections of Red Garland and Sonny Clark, and post bop changes of Hank Jones and Tommy Flanagan, to further post bop extensions of Bill Evans, McCoy Tyner and Chick Corea. He concludes with free jazz and atonal piano improvisation of Cecil Taylor. This versatile pianist has performed and traveled with many jazz giants throughout the years – as mentioned below – enabling him to capture the characteristic sounds, including harmonic, melodic and rhythmic expressions, of a wide spectrum of jazz piano masters.
The History of Jazz Piano
Solo Performance & Seminar
Focus is on the styles of pianists from the early 20th century on up through the decades, from ragtime, Earl "Fatha" Hines through Fats Waller, Art Tatum to Erroll Garner, Bud Powell, Bill Evans, Thelonious Monk, McCoy Tyner and "Free Jazz". Piano styles will include ragtime, boogie-woogie, stride, swing, bebop, post-bop, modal, polytonal and "Free Jazz", spontaneous improvisation. Recordings and DVDs will complement the live demonstrations, anecdotes and commentary. Audience questions and feedback will be encouraged. Larry has personally known and, in some cases, worked with some of the historic piano legends.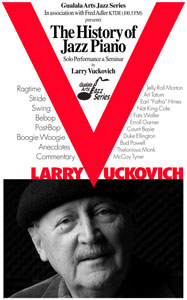 Bebop & Post-Bop
Jazz Piano Clinic
Teaching and demonstrating various styles of piano greats as Erroll Garner, Red Garland, Art Tatum, Bud Powell, Bill Evans, Tommy Flanagan, Barry Harris, Hank Jones, and others.
Demonstrating the voicings and harmonies from Erroll Garner by obtaining a rich and full-bodied sound from the piano. Also emphasizing Erroll Garner's rhythmic concept and phrasing.
Red Garland's block chords voicings on blues and standards. Variations of Red's different types of voicings. Rhythmic manner and single note phrasing and special touch of Red's piano style.
Bud Powell's style which emphasizes the rhythm and syncopation of Charlie Parker's bebop style phrasing. Also Bud's single note rhythmic phrasing and harmonies. Barry Harris' similar style of Bud Powell interpretation.
Art Tatum's substitute changes/harmonies and single note runs plus two handed stride style of playing.
Tommy Flanagan and Hank Jones similarities and differences of their special delicate touch of piano playing including rhythmic phrasing of bebop lines.
Bill Evans style of impressionistic harmonies, phrasings, and substitute changes.
Sonny Clark and Kenny Drew's similar and different bebop stylings influenced by Bud Powell. Also Demonstrating Sonny Clark's special rhythmic phrasing that includes laying back playing behind the beat.
Down home, slow blues style including Red Garland's influences and also gospel traditional blues influences.
Art of the Ballad
In the hands of the jazz piano masters
Teach and demonstrate various styles of ballad playing as exemplified in the styles of jazz piano masters Bill Evans, Bud Powell, Erroll Garner, Red Garland, Art Tatum, Tommy Flanagan, Barry Harris, Hank Jones, McCoy Tyner, and others.
Show how to:
Develop a personal/original style of ballad playing. Emphasize the importance for a pianist to master/absorb ballad concepts of the above mentioned great pianists, and then develop his own personal signature that projects his own deep personal expression.
Play key voicings and harmonies, emphasizing a special piano touch that expresses the entire keyboard's rich palette of colors. Cover the harmonic color of the whole piano range, using chords from the rich lower register all the way to the bell sounding higher range.
Express different kinds of voicings, from traditional to modern piano chord formations, as well as inversions. Demonstrate the importance of harmonic chord variation to avoid a harmonic sameness of ballad sound throughout the piece. Create a more complete sound picture by contrasting full-bodied, rich chords with less tonally complex ones at different parts of the song to show dynamic artistic voicing. Emphasize the importance of using space deliberately – as a poetic caesura, what's called a "pregnant pause" – to create a dramatic effect.
Make creative use of substitute harmonies at appropriate places, adding richness and depth of expression to the whole ballad.
Choose a particular type of harmony and voicing in accompanying instrumentalists and vocalists.
Hear examples of rubato as well as rhythm ballad playing, emphasizing lyrical, melodic, and harmonic elements that make the ballad style sing and "come to life", instead of remaining just a theoretical exercise.
Balance ballad playing to express its romantic expression, as well as its creative intellectual element. Emphasize that it's the romantic and lyrical message that forms the heart of all ballad playing as expressed not only by jazz piano masters mentioned above, but also by the great horn players, such as Lester Young, Ben Webster, Charlie Parker, Paul Gonsalves, Johnny Hodges, Stan Getz, Dizzy Gillespie, and many more.