Schedule Archives
Past Concerts/Events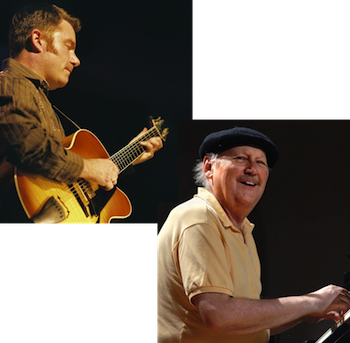 Larry Vuckovich 78th Birthday Concert
Larry Vuckovich plays solo piano and duets with versatile guitarist Josh Workman. They will recreate an intimate musical dialogue with creative improvisational communications presenting originals, jazz classics, and rare standards, and feature some selections paying tribute to the great recording, Undercurrent as originally played by Bill Evans & Jim Hall.
Refreshments and Mediterranean treats will be served.
Saturday, December 6, 2014 at 8pm
at Piedmont Piano Company
1728 San Pablo Ave. (at 18th), Oakland, CA
$20 - To reserve tickets with your credit card, please call (510) 547-8188
The San Francisco-raised Josh Workman was on the New York City scene for five years, playing with such bands as Jazz Passengers and offshoots of the Groove Collective. On his return to San Francisco in 1995, he joined Indigo Swing, which during the neo-swing revival of that period, led the pack, touring internationally, sometimes with the Brian Setzer Orchestra, appearing with them at such venues as the Stuttgart Jazz Festival in Germany. He later toured in 2004 with the Django-style band, Hot Club of San Francisco and released his debut CD that same year. Critic Herb Wong, writing in the Jazz Education Journal, gave it the Blue Chip Award – among the top four instrumentals of 2004. "... a phenomenal musician ... Workman's rich CD contexts and amazing performances serve as inspirational examples for jazz guitarists young and old. It is a spectacular maiden voyage." Musicians on his recording include: two former drummers with Sarah Vaughan: Harold Jones, currently with Tony Bennett and formerly with the Count Basie Orchestra; and Omar Clay, who performed with Charles Mingus and performed on and produced Elvin Jones' M'Boom recordings. Lending his fiery Latin percussion to the mix is five-time Grammy nominee and Tito Puente alum John Santos. Pianist and arranger is Larry Vuckovich, with whom Workman has recorded and appeared at such festivals as San Francisco and Monterey, as well as a Balkan tour. www.joshworkman.com
Larry Vuckovich has played with jazz greats from several influences: Dexter Gordon, Philly Joe Jones, Mel Tormé, Don Byas, and Red Norvo, to today's artists: Charlie Haden, Bobby Hutcherson, Bobby McFerrin, Tom Harrell, and Charles McPherson. He was house pianist at the legendary Keystone Korner in San Francisco for five years, before moving to the New York scene, where he played with renowned musicians at all the top jazz clubs. Vuckovich later headed the Grand Hyatt's Club 36 music program, which became a San Francisco Jazz Festival venue. He presented weeklong theme shows there and at Kimballs East/West, Yoshi's, The Bach, and was artistic director of the former Napa Valley Jazz Festival in Yountville. He has also appeared at Lincoln Center's Dizzy's Club Coca Cola, and performed as a guest of Marian McPartland on her NPR show, Piano Jazz. Several of his CDs have placed high on the Jazz Week national radio charts, including #3 for his last CD Somethin' Special with guest tenor saxophonist Scott Hamilton. Noted TV film critic Leonard Maltin, Movie Crazy, "...highly recommend(s) Larry Vuckovich's film noir-inspired CDs," citing as "beautiful" the pianist's premier recording of Bronislaw Kaper's theme from the film High Wall, as well as his jazz version of the Alfred Newman theme used in the film Street Scene and in other Fox film noirs of the 1940s.
---