Schedule Archives
Past Concerts/Events
Larry Vuckovich leads jazz tribute to tenor sax man Dexter Gordon
By Jesse Hamlin Published 1:23 pm, Wednesday, December 3, 2014
Jazz pianist Larry Vuckovich, who played with Dexter Gordon in Copenhagen 51 years ago, leads a tribute to the late tenor saxophonist at Yoshi's on Dec. 29.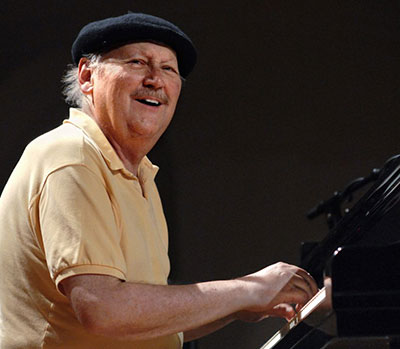 Pianist Larry Vuckovich, who found his metier after hearing jazz on American Armed Forces Radio as a kid in Yugoslavia during World War II, first returned to Europe in 1963 after a dozen years in San Francisco. He was hanging out in Copenhagen when the house pianist at the Montmartre Club, Bent Axen, asked him to fill in for two weeks while he took a vacation. The job was accompanying Dexter Gordon, the American expatriate tenor saxophonist celebrated for his big, regal tone, hard-bopping solos and sensuous ballads.
"What a stroke of luck," says Vuckovich, who remembers with a laugh how Long Tall Dexter used to say "Let's get bent" when he wanted a drink. He loved Gordon's records and had heard him play at San Francisco's Jazz Workshop, so he was thrilled and nervous to play with him.
"Relax, man, you're doing fine," the suavely laconic saxophonist told him after the first set. In those days, says Vuckovich, whose two-tenor Dexter Gordon tribute band plays Yoshi's on Dec. 29, "even if you were less experienced, if the musicians felt you spoke the language, they would help you. But if you were in the way and didn't swing, you were out the first night."
Vuckovich, the only student that famed San Francisco pianist Vince Guaraldi ever taught, didn't play with Gordon again until he returned to Europe in 1968 with singer Jon Hendricks (Vuckovich was the only white musician in Hendricks' theatrical hit "Evolution of the Blues," prompting the witty vocalist to tell audiences that "brother Vuckovich comes from the part of Yugoslavia called Montenegro"). Vuckovich became the house pianist at Munich's top jazz club and played with Gordon at an Austrian festival in a band featuring another of his heroes, drummer Philly Joe Jones.
"Dexter had that big, original sound — like Stan Getz, he had his own sound — and created those beautiful clear melodies," says the pianist. The quintet he's bringing to Yoshi's features two prime tenor players: Noel Jewkes, the undersung Bay Area master who plays many styles with authority and feeling, and Rob Roth, a hard bopper from Philadelphia.
"With two tenors you've got more bottom, more balls in the melody," says the pianist. "You get that big sound that summons Dexter."
Those of us who saw Gordon during his runs at San Francisco's storied Keystone Korner in the late '70s and early '80s, after his triumphal return to the United States, fondly recall his penchant for reciting the lyrics to ballads like "You've Changed" in a boozy baritone before playing the song. Vuckovich, who'll play that tune and swinging Gordon originals like "Montmartre" and "Cheesecake" at Yoshi's, has begun reading some of those lyrics, too, but in his own Balkan-inflected voice. (He once popped out of a coffin at an SFJazz Halloween show at Bimbo's to do Philly Joe's Bela Lugosi-inspired Bebop Vampire bit.)
"People get to hear what the tune is about," says the pianist, who celebrates his 78th birthday Saturday, Dec. 6, at Piano Piedmont in Oakland, playing music from the classic 1962 Bill Evans-Jim Hall duo recording "Undercurrent," with guitarist Josh Workman, who studied with Hall.
"The communication between Bill Evans and Jim Hall, the way they go back and forth, is really sensitive. You got harmonic color, you got bebop, you got space, you got romance. You got everything."
For more information, go to www.larryvuckovich.com.
Jewkes in Sausalito
Speaking of Noel Jewkes, the venerable Bay Area saxophonist continues his impressive three-year run at the Seahorse in Sausalito, where he plays every Tuesday night with a round-robin group of singers and instrumentalists. On Tuesday, Dec. 9, he features Rich Sigberman, an artist and jazz illustrator by day who sings jaunty tunes from the 1930s and '40s; on Dec. 16, it's the dynamic Joe Williams-style vocalist W. Allen Taylor; and on the 23rd, Kitt Weigant, whom Jewkes describes as a kind of "svelte cabaret singer," performs arrangements written for her by the deft pianist Larry Dunlop, who's on the job, too.
You can also catch Jewkes' quartet with pianist Keith Saunders, bassist Adam Gay and drummer Jake Shandling, with singer Kay Kostopoulos, Sunday, Dec. 7, at the Community Church in Mill Valley. Among other things, she'll sing her lyrics to Jewkes' tune "Cleopatra and the Viper," which is getting a lot of play on Pandora.
For more information, go to www.noeljewkesjazz.com.