Schedule Archives
Past Concerts/Events
Vuckovich - Blue Balkan Beyond Category Ensemble
last performed at the Bach on September 29, 2013.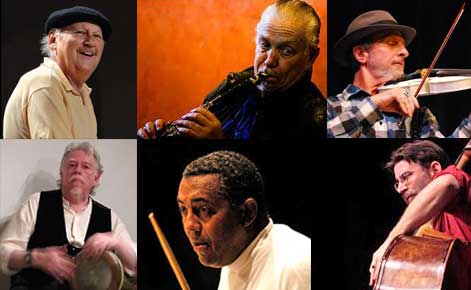 Larry Vuckovich, piano/leader
Noel Jewkes, reeds
Eric Golub, violin/viola
Vince Delgado, dumbek/Middle Eastern percussion
Doug Miller, bass
Chuck McPherson , drums
Being the first in the US to originate the fusion of Balkan ethnic/Gypsy Roma music with American jazz, Larry Vuckovich can be truly considered the pioneer of this unique jazz style. Going "beyond" for this revived ensemble, he has built upon the music program to further widen the repertoire into an expanded "global" format. A refreshingly stylistic "total musical presentation", the Beyond Category ensemble performs music of the Balkans previously included in his acclaimed recording of Blue Balkan, plus a wide range of other styles including swinging bebop/ hard bop, contemporary jazz – adventurous on the edge style, Latin jazz, funky sounds, Flamenco sounds, Tango jazz & more. This world class band promises yet another unique and stimulating concert of the sort we've come to expect from our Friend of the Bach.
---