Schedule Archives
Past Concerts/Events
CHARLES McPHERSON HEADLINES PAJA'S JUNE CONCERT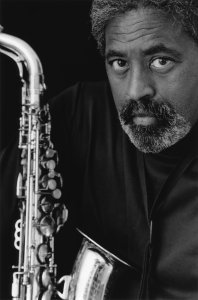 The renowned alto saxophonist, Charles McPherson, will lead a hot quartet at PAJA's next event—Friday evening, June 5th. McPherson, who is one of the stellar bop artists on the planet, has played with just about every jazz great, from Dizzy Gillespie to Phil Woods to Wynton Marsalis. It was McPherson who played the Charlie Parker tunes in Clint Eastwood's biopic "Bird."
The McPherson Quartet includes Austin Harris on drums, Jeff Chambers on bass and Larry Vuckovich on piano. At the June 5 concert they'll be joined by featured artist Andrew Speight, a well-known alto bop virtuoso himself. Sparks should fly when Charles and Andrew trade licks and their great takes on jazz classics. Local altoist Steven Lugerner will also be called to the stage as a special guest.
The site is the El Palo Alto room at the new Palo Alto Community Center (next to the new Mitchell Park Library). The concert, starting at 7:30pm, will be presented in a cabaret setting—with tables and chairs—and wine and soft drinks will be available.
Tickets can be ordered by mail, starting April 20, from E. Fox, PAJA Tickets, 294 Tennessee Lane, Palo Alto 94306, and will be purchasable at the usual outlets: Peninsula Music & Repair, Palo Alto; The Record Man in Redwood City; Vinyl Solution, San Mateo; and Groove Yard, Oakland. Ticket prices: $40, general admission; $35, PAJA members (limit of two at this price); $15 students.