Schedule Archives
Past Concerts/Events
Larry Vuckovich In A Duo Concert, With The Master Violinist, Eric Golub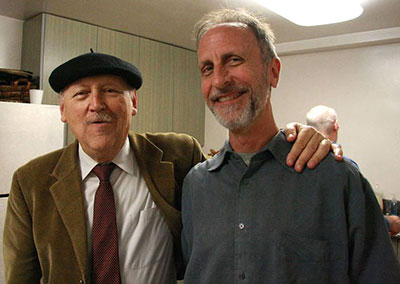 April 11 @ 7:30 pm | $15
Forest Hill Concerts
250 Laguna Honda Blvd. San Francisco, CA 94116

A wide ranging program of World Music including selections from Middle East/Balkan ethnic Gypsy – Roma, Tango Jazz & Classical Music influences, Hard Bop & more.
Pianist
Larry Vuckovich
returns to Forest Hill Christian Church, this time in a duo setting with his long-time musical partner, master violinist, Eric Golub. Larry and Eric go back to 1980 when they first recorded the pioneering, landmark LP, "Blue Balkan." This album is recognized as the first release which fused Balkan ethnic music with American Jazz in the US, thus making Larry a pioneer in this genre. This LP has since been re-released in a CD format in 2002 with added new material and has received high praise from major publications/critics, one of which is the esteemed New York critic, Gary Giddins. Gary chose " Blue Balkan: Then & Now " for his top CD list of that year in the Village Voice. Larry and Eric will cover a wide ranging program of music as described above. The beautiful Steinway and the acoustics at the church hall, in addition to the free parking lot adjacent to the Church, are important features of this event.
Eric Golub
is a multi-faceted string improviser who has been performing and recording on jazz viola and violin for more than 35 years, including featured performances alongside such artists as Tom Harrell, Bobby Hutcherson, Solar Plexus and Sadao Watanabe. Eric's unique style draws upon his unusually diverse expertise in world music traditions, including Indonesian, Chinese and Japanese idioms, even as an accomplished Hawaiian singer. He contributed his authentic Balkan gypsy fiddle improvisations to the seminal globally-flavored jazz release "Blue Balkan" by Larry Vuckovich, with whom he continues to work closely to this day.