Schedule Archives
Past Concerts/Events
Larry Vuckovich's Vince Guaraldi Tribute Ensemble
The Jazz & Latin Side of Vince Guaraldi
Presented by The Piedmont Piano Company
Larry Vuckovich presents a first hand musical portrait of internationally acclaimed pianist and Bay Area native Vince Guaraldi. Larry, who was Vince's only student and performed in his two-piano quintet Powder Keg, will premier one of Vince's original composition "Blue Lullaby," his famous duets with Bola Sete, and his first choice swing and Latin/Brazilian repertoire, as well as some of his pop hits, like "Cast Your Fate To The Wind," "Charlie Brown Christmas Tune," and a selection from "Peanuts."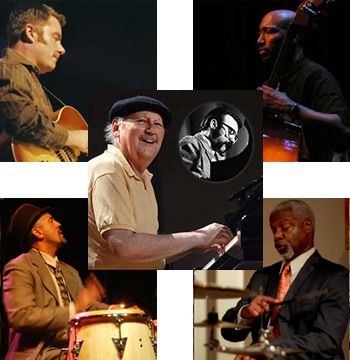 Saturday, March 14, 2015 at 8pm
at Piedmont Piano Company
1728 San Pablo Ave. (at 18th), Oakland, CA

$20 - To reserve tickets with your credit card, please call (510) 547-8188
Larry Vuckovich, piano
Cited by piano legend Barry Harris as "one of the premier West Coast pianists, Mr. Vuckovich brought his Jazz-Latin Trio/Quartet, featured on his two current piano trio/quartet CDs, to Lincoln Center's Dizzy's Club in New York on a recent East Coast tour. On the same tour, he performed with Marian McPartland on her Piano Jazz show, broadcast to national and global NPR affiliates. Mr. Vuckovich has appeared as soloist at the Fazioli piano series in San Francisco, New York and Chicago, and also leads an 18-piece band that sold out the 600-seat 2007 Jazz at Filoli show in Woodside, CA. His two latest recordings, High Wall: Real Life Film Noir and Street Scene, on his Tetrachord Music label, placed in the Top 10 of the JazzWeek national radio reporting charts, and are heard regularly on XM Satellite Radio. They have won praise from top critics: "He's a passionate exponent of what most people call straight-ahead jazz ... there is a consistently tasteful quality to his music that makes it very appealing to the ear. " – Leonard Maltin, Movie Crazy.
The San Francisco-raised Josh Workman was on the New York City scene for five years, playing with such bands as Jazz Passengers and offshoots of the Groove Collective. On his return to San Francisco in 1995, he joined Indigo Swing, which during the neo-swing revival of that period, led the pack, touring internationally, sometimes with the Brian Setzer Orchestra, appearing with them at such venues as the Stuttgart Jazz Festival in Germany. He later toured in 2004 with the Django-style band, Hot Club of San Francisco and released his debut CD that same year. Critic Herb Wong, writing in the Jazz Education Journal, gave it the Blue Chip Award – among the top four instrumentals of 2004. "... a phenomenal musician ... Workman's rich CD contexts and amazing performances serve as inspirational examples for jazz guitarists young and old. It is a spectacular maiden voyage." Musicians on his recording include: two former drummers with Sarah Vaughan: Harold Jones, currently with Tony Bennett and formerly with the Count Basie Orchestra; and Omar Clay, who performed with Charles Mingus and performed on and produced Elvin Jones' M'Boom recordings. Lending his fiery Latin percussion to the mix is five-time Grammy nominee and Tito Puente alum John Santos. Pianist and arranger is Larry Vuckovich, with whom Workman has recorded and appeared at such festivals as San Francisco and Monterey, as well as a Balkan tour. joshworkman.com
Five-time Grammy-nominated percussionist and US Artists Fontanals Fellow, John Santos, is one of the foremost exponents of Afro-Latin music in the world today. Born in San Francisco, California, November l, l955, he was raised in the Puerto Rican and Cape Verdean traditions of his family, surrounded by music. The fertile musical environment of the San Francisco Bay Area shaped his career in a unique way. His studies of Afro-Latin music have included several trips to New York, Puerto Rico, Cuba, Brazil and Colombia.He is known for his innovative use of traditional forms and instruments in combination with contemporary music, and has earned much respect and recognition as an educator, composer, and record and event producer. He's been a prolific performer, composer, teacher, writer, radio programmer, and record/event producer whose career has spanned over 35 years. johnsantos.com
Known as one of the foremost bassist in the country, Jeff Chambers has played with many great jazz artists such as Dizzy Gillespie, Les McCann, Eddie Harris, Benny Carter, Tommy Flanagan, Joe Henderson, Dakota Staton, McCoy Tyner, Joe Williams, Little Jimmie Scott, Tony Williams, Frank Morgan, Dr. Dorothy Donegan, Kenny Burrell, James Moody, Nat Adderley, Milt Jackson, John Hendricks, Benny Golson, Larry Coryell, Hank Crawford, Abbey Lincoln, Ernestine Anderson, Doug Carn, Don Cherry, Clifford Jordan, Laurindo Almeido, Linda Hopkins, Teddy Edwards, Roy McCurdy, Richie Cole, Slide Hampton, Jeff Hamilton, George Coleman, Mel Lewis, Archie Shepp, Cedar Walton, Gonzalo Rubalcaba, Ahmad Jamal, Pharoah Sanders, Russell Malone, Red Holloway, Wallace Roney, Houston Person, Curtis Fuller, Hadley Caliman and many many others. jeffchambersjazz.com
Leon Joyce, Jr. a native of Meriden, Connecticut, received his musical training through private instruction under John Oblon and Jimmy Rozelle. As a drummer, he has worked for a wide variety of top artists, including Ramsey Lewis, Nancy Wilson, Smokey Robinson, Barry Harris, Clark Terry, and Conti Condoli. As a clinician, Leon has led many clinics in Chicago and elsewhere in the United States at various educational institutions and music programs. He has appeared at many of the top national and international jazz festivals, including the Monterey Jazz Festival and Montreux. leonjoycejr.com
---