Schedule Archives
Past Concerts/Events
Concert Pays Tribute to Sounds of Vince Guaraldi
By Carol Graham | Published Thursday, February 11, 2016 12:00 am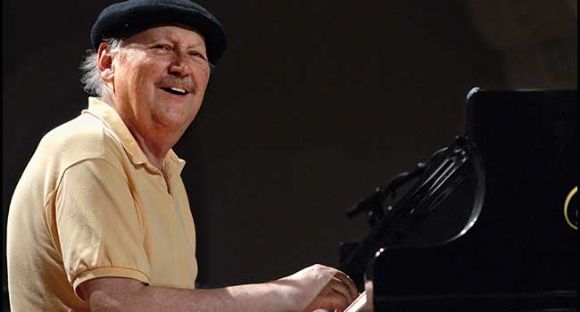 When a fellow musician admired Vince Guaraldi's beautiful redwood and glass house in Mill Valley in the 1960s, Guaraldi responded, "I bought it for a song."
Guaraldi was referring to a little B-side number he'd written called "Cast Your Fate to the Wind." A gentle, likable tune, it stood out from anything else on the airwaves and became a grass-roots hit. It also won the Grammy for Best Original Jazz Composition in 1963.
Guaraldi would only live another dozen years, but he left a mark on the world of music that continues to this day.
The Vince Guaraldi Tribute Quintet featuring Larry Vuckovich will perform at Pleasanton's Firehouse Arts Center on Sunday, February 21st at 2 p.m. Vuckovich, himself a revered musician, holds the unique distinction of having been Guaraldi's only student, and later his piano partner in the quintet Powder Keg.
"About two years ago I felt it was time to pay tribute to Vince so that people would become more familiar with his true jazz/Latin/Brazilian and funky side – the kind of music that he truly loved," said Vuckovich. "I met Vince at the famed Black Hawk nightclub in the Tenderloin in about 1957 or 1958. He was Cal Tjader's pianist and I was fortunate that he took me on as his only student."
Guaraldi's fame grew when producer Lee Mendelson heard Cast Your Fate to the Wind playing on the radio while driving in a taxi cab across the Golden Gate Bridge. He tracked down Guaraldi to propose he score the upcoming Peanuts Christmas special, and two weeks later Guaraldi performed over the phone an early version of "Linus and Lucy."
"Growing up, I was a huge Peanuts fan, and I just loved the music," said Firehouse Supervisor Robert Vogt. "Of course, Linus and Lucy is my all-time favorite! Being able to hear first-person stories from Larry about his relationship with Vince should be a real treat."
While Guaraldi was born in North Beach in 1928, Vuckovich was born some 6,300 miles away in Yugoslavia eight years later. His earliest memories are a blend of music and war.
"My childhood was a mixture of happy musical experiences including studying at the music school, playing with friends, and experiencing the dangers of war," said Vuckovich. "At five years old in 1941, I watched the Nazi and Italian troops roll into my home town of Kotor. Serbian and Montenegrin guerrillas fought the Nazis at different times.
"Both my mother and brother played the piano in the living room. On the family phonograph, I listened to records of Serbian, Balkan/Gypsy-Roma folk music, which left a deep impression on me. Another major experience was listening for the first time to American big band jazz on the radio, probably on U.S. Armed Forces radio."
Vuckovich's world changed when he and his family immigrated to San Francisco. For the 14 year old, his "film-noir life morphed into a Technicolor production." He now lived in the midst of the flourishing jazz scene of the '50s, one of the most exciting periods in the history of jazz, and he couldn't wait to dive in.
His personal experiences and stories involve Duke Ellington, Cab Calloway, Joe Williams, Rosemary Clooney, Tony Bennett, and social critic Lenny Bruce. But he was most influenced being the sole student of Guaraldi.
"Vince would play records of the masters for me, pointing out important elements," said Vuckovich. "I learned the importance of strong melodic, rhythmic playing, and also the feeling of Latin jazz.
"Besides being a very popular pianist, Vince enjoyed experimenting with improvisation which was not generally present in his studio recordings. I'm bringing to the Firehouse concert a recording from his private home sessions so the audience can sample and experience Vince's spontaneous improvisational ability. It includes a version of Blue Lullaby, a beautiful jazz waltz melody that he never got to record in the studio."
Vuckovich will also share favorite memories of Guaraldi, notably that "Miles Davis asked Vince to join his band in the 1963, but Vince turned him down, saying he had his own band and that his hit, Cast Your Fate To The Wind, had a lot of momentum."
Though Guaraldi passed away in 1976 when Vuckovich was not quite 30, the protégée went on to become a San Francisco treasure himself. Herb Caen raved about him in his column, and December 8, 2006 (his 70th birthday), was declared Larry Vuckovich Day in San Francisco.
Today the Calistoga resident performs in the Vince Guaraldi Tribute Quintet with: Josh Workman, guitar; John Santos, Latin percussion; Jeff Chambers, bass; and Leon Joyce, drums.
"I hope Firehouse concert attendees take away a happy feeling of soulful jazz, which was what Vince was about and also the kind of music I'm known for," said Vuckovich. "This is truly an event honoring Bay Area history and Vince Guaraldi's legendary contribution to the music scene."
Reserved seating tickets, $15- $25, are available at www.firehousearts.org, 925.931.4848, or the Firehouse box office at 4444 Railroad Avenue, Pleasanton.