Schedule Archives
Past Concerts/Events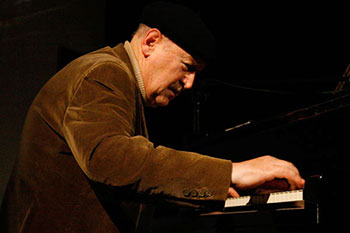 Jazz great Vuckovich returns to MV's Wunderman House for Sunday afternoon concert
Published: 23 January 2019 | Written by Los Altos Town Crier Staff - Town Crier Report
Acclaimed jazz pianist Larry Vuckovich is set to return to Mountain View for another concert of standards – this time in the trio format with bass and guitar – 3-5 p.m. Sunday at the Wunderman House, 655 Eunice Ave.
The concert will feature pieces from Nat King Cole, Oscar Peterson and Vince Guaraldi. Vuckovich, a jazz veteran with a Balkan background, is considered an innovator – he incorporates ethnic Eastern European music into his playing. Jeff Chambers will accompany Vuckovich on bass, and 24-year-old Kai Lyons on guitar.
Vuckovich performed solo last year at the historical Wunderman House, which purportedly operated as a speakeasy and bordello during Prohibition in the early 1930s.
"I'm very fortunate to have had an interesting career, which is still going strong," said Vuckovich, whom the late Guaraldi once mentored. "Throughout many decades, I have performed with so many greats in diverse, various areas of jazz. … Some of these performances include playing on the bill with Lenny Bruce, accompanying Cab Calloway, Tony Bennett, Jon Hendricks, Mel Torme and so many others."
Vuckovich, whose career spans seven decades, is recognized in the industry as one of the most versatile pianists/bandleaders. His biography describes him as "equally at home in world music/classically influenced modal jazz as he is in hard-swinging bebop, post-bop, contemporary jazz and down-home blues."
Born in the former Yugoslavia, Vuckovich and his family were persecuted under the Communist regime, and his parents were imprisoned at one point. He fled to San Francisco in 1951 as a teen and was granted political asylum. The fledgling pianist began his career in 1959, becoming immersed in the then-flourishing jazz scene. Along the way, he garnered respect and admiration among fellow musicians and jazz aficionados alike.
"My Blue Balkan LP from 1980 featuring the great Bobby Hutcherson is a pioneering, landmark recording in this genre," Vuckovich said of a career highlight. "I'm the first to fuse the Balkan ethnic music with American jazz."
Still, the 82-year-old Vuckovich stressed, "I don't live in the past, being content with the achievements I have accomplished. I'm very active."
Tickets are $25.
For tickets and more information on the concert, call (707) 299-9964 or email lvuckovich@usa.net.
---