Bookings
Bookings Available in 2015
Larry Vuckovich holds a unique and enviable position as one of the few active pianists who has worked with a long line of jazz masters, linking eras from the '30s to the present. His prestigious career has included performances with such legends as Red Norvo, Cab Calloway, Don Byas, Kenny Clarke, Dexter Gordon, Mel Tormé, Philly Joe Jones, Billy Higgins, Elvin Jones, Leon Thomas, as well as jazz giants on today's jazz scene, such as Kenny Burrell, Charlie Haden, Jon Hendricks, Clark Terry, Charles McPherson, Bobby Hutcherson, Tom Harrell, Bobby McFerrin, and many others. His versatility and ability as a pianist have earned him the privilege of being chosen to work with these artists on tours, club dates, festivals and recordings. Larry Vuckovich enjoys an important role as part of the jazz legacy of both the United States and Europe. His rich experiences in jazz have inspired him to form the following ensembles that we offer for your 2013 concert season.
Dexter Gordon/Sonny Clark Tribute Ensemble
Features two-tenor frontline of Noel Jewkes and Rob Roth. When budget allows, trumpeter Joel Behrman would be added to the Larry Vuckovich East Coast rhythm team of Paul Keller and drummer Chuck McPherson.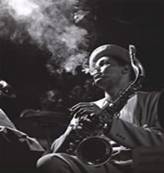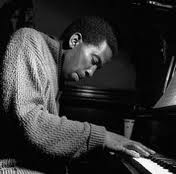 I performed with Dexter at the legendary Montmartre jazz club in Denmark and with his quintet, which included Philly Joe Jones, at the Ossiach festival in Austria. View the concert program.
Sound Samples:
Somethin' Special
Cheese Cake
Larry Vuckovich Beyond Category Quartet
Features percussionist John Santos – performing swinging bebop/hardbop/postbop, contemporary, on-the-edge jazz, Afro-Cuban/Brazilian, Balkan-Roma (Gypsy)-ethno, blues-funk, tango jazz, flamenco sounds. When the budget allows, my East Coast rhythm team of bassist Paul Keller and drummer Chuck McPherson could join the percussionist. Otherwise, I will bring a first-call Bay Area rhythm section. I use the phrase, Beyond Category, to refer to my diverse elements, drawn from many sources, that I weave into my music.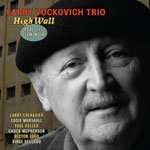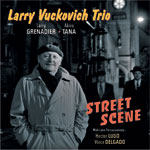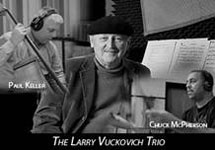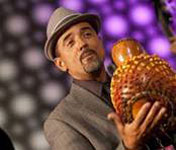 High Wall: 4 1/2 Stars Scott Yanow, All Music Guide
STREET SCENE: "A true musician's musician...originality, elegance, dexterity and most of all...great sense of swing, time, space and phrasing. For those who are keen on a superior jazz trio, Street Scene is highly recommended." Gilbert Mathieu, Jazz Improv
"A MONSTER of a player who should be much more well known. (High Wall: Real Life Film Noir) is one of his best recordings to date." Gary Walker, Music Director and Morning Host of WBGO NJ/NYC
"... any discussion of the best jazz piano players in the world must now include Larry Vuckovich!" Brad Stone, Music Director and on-air host KSJS - San Jose, CA
Sound Samples:
Dexter's Mode
Street Scene
As Time Goes By
Afro 6/8 Minor Blues
Ow!
Put It Where You Want It
Lester Young/Count Basie/Tribute Ensemble
Features the two-tenor team of Noel Jewkes and Rob Roth. Village Voice critic, Gary Giddins noted, " Noel Jewkes is a genuine find – a fluent Youngian on tenor and clarinet whose solos are long, sure, twisted phrases with surprising turns and knowing resolutions – dig his get – off chorus on Jumpin' at the Woodside". The original, powerful swinging rhythm section with Harold Jones on drums (available when not touring with Tony Bennett), Nat Johnson, bass; Josh Workman, rhythm guitar and Larry Vuckovich, piano, propels this most authentic ensemble. Drummer Bryan Bowman will perform when Harold Jones is unavailable.
This show with its authentic interpretations of the above jazz giants also excited audiences at the San Francisco Jazz Festival tribute to critic Phil Ellwood.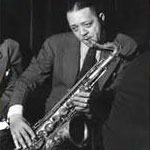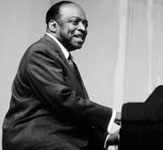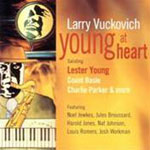 "One of the happier surprises of the Monterey Festival...exuberant swing... joy to hear...get this CD!" Scott Yanow, jazz critic
"It's a superb CD. That album sounds like a bunch of the cats-Prez, Jo Jones, Buddy Tate, Basie, Walter Page and Freddie Green played five shows at the Apollo and then went down to the studio and made the album." - Jon Hendricks
"It's so refreshing to find out that music is still so beautiful. It sounds so nice. I'm happy to learn there are still people around that can play like this." Barry Harris
Sound Samples:
Jumpin' At The Woodside
Lester Leaps In
Tickle Toe
Why Not
Jumpin' With Symphony Sid
Bebop/Hard Bop/Post Bop Tribute Ensemble
Historic re-creation of an important, revolutionary new genre in jazz: the music of Bird, Diz, Horace Silver, Dexter Gordon, "Cleanhead" Vinson, Joe Henderson, 'Trane, and more, features the front line of Joel Behrman and Rob Roth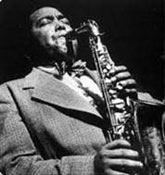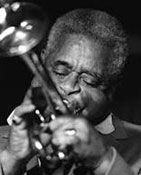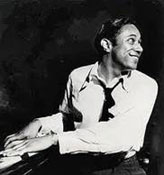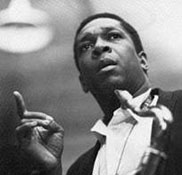 Sound Samples:
Enchantment
Impressions (Larry Vuckovich)
Last Train From Overbrook (Larry Vuckovich)
Larry Vuckovich's Crosswinds: Global Jazz Journey
Features master violinist Eric Golub and marimba player Tommy Kesecker in the front line. Master Middle-Eastern dumbek percussionist Vince Delgado adds authentic Asian/North African rhythms. When budget allows, multi-reed saxophonist Noel Jewkes is added to the ensemble. I've revived and broadly expanded my Blue Balkan ensemble, extending it from the original concept of its 1980 LP recording that gained me recognition as the first in the U.S. to fuse Balkan ethnic elements with jazz. I've gone global with this concept, weaving in music of North Africa, the Middle East, as well as Cuba, Latin and Central America, and am including the music from Asia, and other parts of the world. At the same time I'd like to retain the American classic jazz repertoire of Ellington, Monk, Coltrane and the hard swinging selections of Dexter Gordon / Sonny Clark, along with get-down blues, funk and boogaloo. However, whatever we play, it's always authentic American jazz. This is my most adventurous, modern, on-the-edge ensemble, bordering on free jazz elements. Modal jazz concepts and free-form improvisation underlay this musical offering. Original ensemble member from 1980, Eric Golub, a violinist deserving wider recognition, is a diverse improviser, mastering music of Asia, Middle-East, and Roma (Gypsy) styles, as well as modern sounds of Jean Luc Ponty, and John Coltrane's melodic and rhythmic concepts. Marimba player Tommy Kesecker is an exciting contemporary jazz player as well as being at home with the ethnic music of the Middle East through his performances with Zakir Hussain. Tommy was featured on Blue Balkan: Then & Now CD. Rhythm team of Vince Delgado and drummer, Akira Tana, create percussive fire-works. Bassist / mandolinist Michael Zisman completes the ensemble.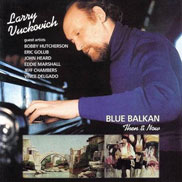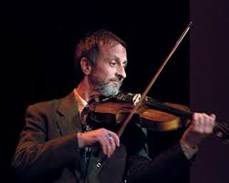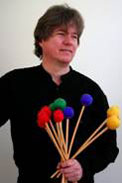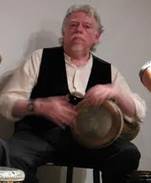 Blue Balkan: Then & Now included in Gary Giddins' Best Jazz CDs of 2002" list, Village Voice 2003

"Prefiguring the much-lauded work of Dave Douglas and even John Zorn ... modern context ... angular, cubist, post-bop compositions ... the gypsy-style melodies, authentically believable on their own, work effortlessly" Matt Collar, AllMusicGuide.com 2002
"Drawing from his ethnic background as well as his blues roots, pianist Larry Vuckovich makes a warm and rich statement with Blue Balkan.
✮ ✮ ✮ ✮ ½ Stars" Down Beat, October 1981
Sound Samples:
Blue Balkan
Larry's Dance
Belgrade Blues
Vince Guaraldi Tribute Ensemble
Features percussionist John Santos and guitarist Josh Workman. This band offers an opportunity to feature my mentor Vince Guaraldi's true side of jazz and Latin, including his duets with Bola Sete. I would present Vince's hits, such as Cast Your Fate to the Wind, as well as his previously unrecorded originals.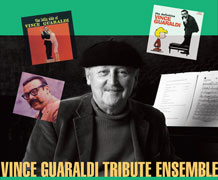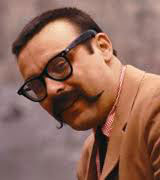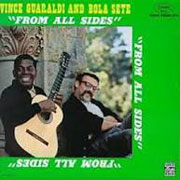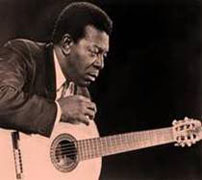 Sound Samples:
Cast Your Fate to the Wind (Larry Vuckovich)
"Has anyone made a more swinging holiday record than the soundtrack to "A Charlie Brown Christmas" by the late San Francisco pianist Vince Guaraldi? Larry Vuckovich - the only pianist the owlish, walrus-mustached pianist ever took on as a student - will sprinkle some of those Peanuts tunes into the Guaraldi tribute he's playing Monday night at Yoshi's in Oakland, along with bop and Latin numbers, and the composer's biggest hit, "Cast Your Fate to the Wind," that Guaraldi recorded for Berkeley's Fantasy Records. El Vucko's band features percussionist John Santos, bassist Seward McCain, drummer Akira Tana and guitarist Josh Workman, summoning the spirit of Guaraldi's Brazilian collaborator, Bola Sete." Jesse Hamlin, SFGate, December 4, 2013
Miles Davis live at the Black Hawk Repertoire Tribute Ensemble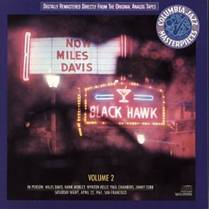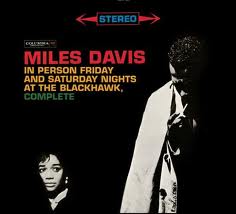 I heard this quintet live at the Black Hawk and was inspired by it ever since. The front line of trumpet player Joel Behrman, tenor saxophonist Rob Roth, and my Trio complete this ensemble.
Bill Evans-Jim Hall Tribute Duo
Features a most versatile guitarist Josh Workman, of whom Jim Hall said: "I was knocked out by Josh Workman's CD. It's great to hear a fresh, new voice in jazz guitar emerging on the scene." Josh covers swing-bebop, Latin-Brazilian, Roma (Gypsy) – Django, down-home blues-funk, and performs with top vocalists Kim Nalley and Maria Muldaur. The duo of Larry Vuckovich, who has had a personal association with Bill Evans, and Josh Workman, who studied with Jim Hall in New York, will perform selections from the albums Undercurrent and Intermodulation.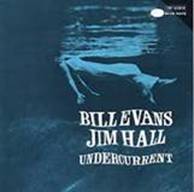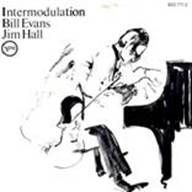 Josh Workman and Larry Vuckovich will each perform solo pieces from Bill Evans and Jim Hall.
Solo Piano Performance
Also falls into the Beyond Category program, presenting a wide area of music.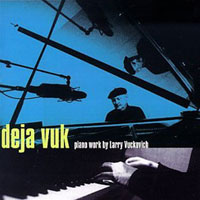 "Vuckovich weaves his influences together in a most engaging way, adding occasional strokes of Balkan music. Through it all, however, one influence prevails: blues. Sl, however, one influence prevails: blues. Vuckovich obviously has an affinity for the form, and he treats it with utmost care. Another striking aspect of his playing is the lyricism … "Deja Vuk is a CD well worth hearing and re-hearing." Chris Albertson, Stereo Review, November 1995
I'm writing a book about my life in jazz, beginning as a child in Yugoslavia, hearing forbidden jazz broadcasts on Armed Forces Radio, under Nazi occupation, and Voice of America, under Communists. My father, who helped the underground effort, was granted refugee status by the U.S. government and allowed to immigrate in 1951, when I was 14. We arrived in San Francisco at the height of an exciting jazz decade, rivaling New York. I studied piano with Vince Guaraldi, later playing in his two-piano quintet, worked with John Handy, then Jon Hendricks, forming a 25-year association. I played at festivals with Dexter Gordon, Philly Joe Jones, Elvin Jones, and others. I was house pianist at San Francisco's legendary Keystone Korner for five years, before leaving for the New York scene, where I played at top clubs with jazz headliners. My book recounts many exciting anecdotes of opening for Lenny Bruce, playing between sets for the Duke Ellington Orchestra; performing with Charlie Haden, Tom Harrell, Charles McPherson, Bobby McFerrin, Tony Bennett, plus jam sessions with Wes Montgomery, Ornette Coleman/Don Cherry, and Eric Dolphy.