Discography
Audio Samples, Credits, Charts, Reviews & Quotes
Credits & Charts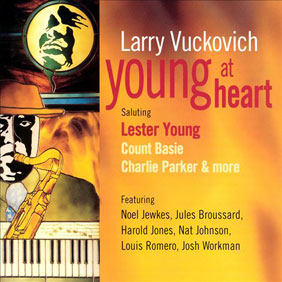 Larry Vuckovich, piano
Jules Broussard, tenor sax, alto sax
Harold Jones, drums
Noel Jewkes, tenor sax, alto sax, clarinet, flute
Josh Workman, guitar
Nat Johnson, bass, vocals on 6
Louis Romero, percussion
Buca Necak, bass
Bob Basa, guitar
Dottie Dodgion, drums

Purchase Options
Buy CD directly from Larry Vuckovich:
or Download MP3s from:


Quotes & Reviews
"It's so refreshing to find out that music is still so beautiful. It sounds so nice. I'm happy to learn there are still people around that can play like this." Barry Harris, jazz pianist nonpareil
"It's a superb CD. That album sounds like a bunch of the cats-Prez, Jo Jones, Buddy Tate, Basie, Walter Page, and Freddie Green played five shows at the Apollo and went down to the studio and made the album. Everybody sounds like the real thing, they're the real cats, and I'd be proud to play with them any day. The tenors sound authentic and beautiful. It has all the flavor and atmosphere of that music." Jon Hendricks, acclaimed jazz vocalist
"One of the happier surprises of the Monterey Festival...exuberant swing... joy to hear...get this CD!" Scott Yanow, jazz critic Read Full Review →
"A heart felt tribute to Lester Young...this sextet sounds and swings like a big band,reminding me of Basie's Kansas City Seven...this is a splendid disc... I warmly recommend this" Michael Bailey, Allaboutjazz.com Read Full Review →
L.A. JAZZ SCENE
CD REVIEWS
LARRY VUCKOVICH
Young At Heart
(Robbins-Tetrachord Music)
One of the surprises of the Monterey Jazz Festival was getting to hear pianist Larry Vuckovich's "Young At Heart" band. Although I think of Vuckovich as a bop-oriented pianist, his current group is a swing combo featuring the twin tenors of Jules Broussard (who also plays alto) and Noel Jewkes (who takes some spots on clarinet and flute). Their debut CD features the sextet in spirited form.
With guitarist Josh Workman, either Nat Johnson or Buca Necak on bass and drummer Harold Jones offering steady support, the ensemble swings through such numbers as Neal Hefti "Why Not," "Jumpin' With Symphony Sid," "Jumpin' At The Woodside" and "Ornithology." The only originals are Vuckovich's "Besame Macho" (a new melody played over the changes of "Besame Mucho) and Jewkes' "Lester People."
Broussard and Jewkes both mix together the influenes of Lester Young and Illinois Jacquet, Vuckovich emulates Count Basie in spots and the music is always joyful, creative within the framework of mid-1940s jazz and swinging. The rise of the Retro-Swing movement has helped make groups such as these more plentiful, a very happy development in the contemporary jazz scene. Get this CD! (available from Robbins-Tetrachord Music at lvuckovich@usa.net)
-Scott Yanow, November 2000
Please see below a review of the "Young At Heart" ensemble from jazz critic Scott Yanow's overview of the September 2000 Monterey Jazz Festival
This review closes with two of the surprises of the festival. Pianist Larry Vuckovich's "Young At Heart" band featured exuberant swing as performed by a two-sax septet. After all of the modern music heard throughout the weekend, it was a joy to hear such songs as "Jumpin' With Symphony Sid," the "Groovin' High Mambo," "The Lady's In Love With You" and other standards. With Jules Broussard and Noel Jewkes taking many fine saxophone solos and Vuckovich's spots recalling Nat King Cole, Red Garland and Oscar Peterson, this was one of the happier surprises of the weekend.