Discography
Audio Samples, Credits, Charts, Reviews & Quotes
High Wall
Real Life Film Noir (2008)
Credits & Charts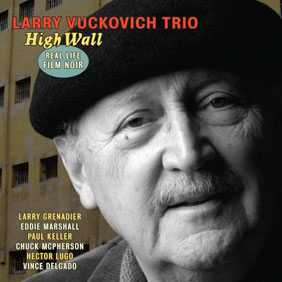 Larry Vuckovich piano, all arrangements (all tracks)
Larry Grenadier bass (tracks 1, 2, 4, 5, 7, 8,)
Eddie Marshall drums (tracks 1, 2, 4, 5, 8,)
Paul Keller bass (tracks 3, 6, 10, 11, 12)
Chuck McPherson drums (tracks 3, 6, 7, 10, 11, 12)
Hector Lugo congas (1, 3, 4, 6, 9, 12), bongos (track 2)
Vince Delgado Egyptian tabla (dumbek) (track 6) bongos (tracks 6, 10)

#8 spot on the'JazzWeek' radio charts.
Purchase Options
Buy CD directly from Larry Vuckovich:
or Download MP3s from:


Quotes & Reviews
"Vuckovich continues to reveal that he is the most poetic interpreter of film noir. The title track is an unknown minor masterpiece composed by Branislav Kaper for a 1947 film. Vuckovich crystallizes it's ambivalent melancholy. His own "View From Telegraph Hill," commissioned for a film noir festival, is a mystery of brightness and shadow. The lush, archaic 1940 romanticism of Jack Lawrence's "A Handful of Stars," in a luminous solo piano unfolding, beautifully belongs." Thomas Conrad, Eighty-Eights column, JazzTimes
"...any discussion of the best jazz piano players in the world must now include Larry Vuckovich!" Dr. Brad Stone, Jazz Music Director of KSJS 90.5 FM, San Jose, CA
✮ ✮ ✮ ✮ ½ Stars Scott Yanow, All Music Guide
"A MONSTER of a player who should be much more well known. (High Wall: Real Life Film Noir) is one of his best recordings to date." Gary Walker, Music Director and Morning Host of WBGO Jazz 88.3 FM, NJ/NYC
"...soars to new heights" Reese Erlich, Public Radio
"Jazz Pianist Vuckovich Finds Truth, Beauty in the Darkness" Art Tashiro, Noir City Sentinel, Pg 5-6 Interview - Read Full Review →
"Vuckovich's craft boasts a myriad of elemental components. Young pianists take heed! Check out his charismatic delivery, largely designed upon asymmetrical, yet poignant fusions of finesse and muscle." Glenn Astarita, JazzReview.com
"Vuckovich does many dazzling technical things ... the trio dates are expertly done, and the occasional quintet pieces equally sharp." Ron Wynn, Riffs Column, Nashville Daily Paper
"... a classy jazz piano date...elegant and earthy with a surprising amount of funk...a real winning date." Chris Spector, Midwest Record
"A gorgeous follow-up to Vuckovich's critically acclaimed 2006 CD, Street Scene .. there is no holding back on this disc.." Tom Henry, The Toledo Blade
"The musical cohesion is truly something special...Vuckovich also works through Coltrane's blazing hot Locomotion." Jordan Richardson, BC Music

Review from http://blogs.indiewire.com/leonardmaltin/
Along with film, my other great passion in life is jazz. Not long ago I heard a beautiful recording of Bronislaw Kaper's theme from High Wall on KJAZZ, our local public radio jazz station. Jazz musicians have made standards of Kaper's title songs from Green Dolphin Street and Invitation, but this was the first time I'd ever heard the music from the 1947 MGM picture starring Robert Taylor. When I learned that the pianist was Larry Vuckovich, I investigated further and found that this talented musician has devoted two recent CD's to music inspired by films—and film noir in particular. He discusses the Robert Taylor movie and his response to it in the liner notes for High Wall: Real Life Film Noir:
Besides the loveliness of the score, I'm drawn to the film's themes of deception, false accusations, the big lie fabricated to slander others so that violence and injustice can be committed against them. The high wall, both literally and symbolically, shuts out efforts to find the truth. I learned to face reality, to look at life as it is, as a Serbian-Montenegran child growing up under Tito's Communist regime in Yugoslavia, and before that, World War II under German, Croatian and Muslim Nazis. Serbs were among America's few allies in the Balkans during this global war, saving more than 500 downed American flyers; my father hid one of them in our attic and helped him to escape.
My history is one reason why I developed an affinity for film noir since my move as a young teenager to the U.S. in the early 1950s. This genre shows an honest, realistic cross-section of American life. It depicts a full spectrum of events and feelings, from the dark side, to the positive caring one. Characters are portrayed realistically, as in real life ― some honest, decent ― others users, ruthless and manipulative. Then sometimes, in a surprising twist, they turn out to be the same person.
I first heard Larry play many years ago when he was the pianist in residence at the Parker Meridien Hotel in Manhattan. Since then he's traveled far and wide, working solo, in the trio format and accompanying artists as diverse as Dexter Gordon and Jon Hendricks. He's a passionate exponent of what most people call straight-ahead jazz, which could never be mistaken for lounge music or that amorphous category known as "easy listening"...yet there is a consistently tasteful quality to his music that makes it very appealing to the ear.
On his 2006 CD Street Scene, Larry performs a jazz version of Alfred Newman's theme from Street Scene, one of my favorite pieces of movie music which the pianist first encountered in its repeated use in Fox film noirs of the 1940s. His other selections range from "As Time Goes By" (performed as a mambo!) to "Come Rain or Come Shine." The High Wall CD also includes many tasteful original compositions. I don't think you'd have to be a hardcore jazz buff to enjoy the music of Larry Vuckovich.